Archive for the 'McMurdo' Category
Drilling for ice!
George, Monday, July 5th, 2010
Temperature: -31°C
Wind Speed: 10 knots
Temp with wind chill: approximately -45°C
Moonrise: n/a
Moonset: n/a
Yesterday I had a very special day. A four man team from the American Antarctic Research Station McMurdo and New Zealand's Scott Base were going on a scientific field trip in a five-seater Hagglund vehicle – a Swedish-built snow tank. They offered the remaining seat to the Antarctic Heritage Trust as the trip aimed to reach Captain Scott's hut at Cape Evans. After drawing names from a hat, I found myself lucky enough to be packing my ECWs (extreme cold weather gear).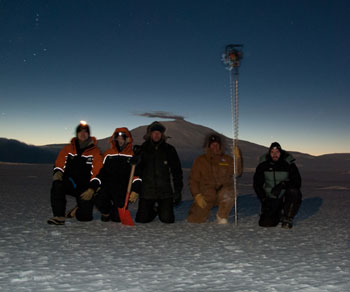 We travelled out across the ice field, an area of the frozen Ross Sea, winding our way carefully along a marked route using GPS, avoiding known areas of thin ice and tide-cracks. The weather began to deteriorate, and as the wind whipped up flurries of ice and snow around our vehicle we lost visibility.
Contacting the weather people at McMurdo via radio, the forecast was grim, and so we decided against pushing on to Cape Evans, instead setting up the scientific recording equipment where we were. Two test holes were drilled, showing the ice to be a suitable 1.5m thick and then we erected a probe to measure the rate and extent of the growing sea ice which will stay in place for a year.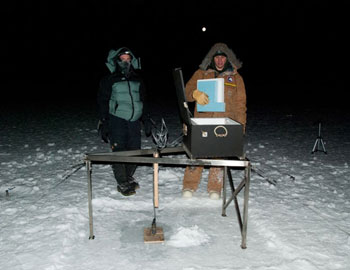 But the weather here is fickle and instead of the predicted blizzard, the wind died down as soon as we began work and everything became perfectly still. It was quite extraordinary being in such an expanse of moonlit ice, and after so many months in the comfort of Scott Base, it impressed on me again what an eerily beautiful and quite desolate place Antarctica can be.
Mid-Winter celebrations
Jane, Monday, June 28th, 2010
Temperature: -37°C
Wind Speed: 5 knots
Temp with wind chill: -45°C
Sunrise: none
Sunset: none
The sun set weeks ago, but this weekend, as our friends in the Northern hemisphere watch the light begin to fade, we at the bottom of the world celebrated its return– even if it is not going to fully return for another couple of months!
Mid winter celebrations have taken place all over the continent and greetings have been exchanged between international bases. Extravagant meals were the order of the day, not least here at New Zealand's Scott Base.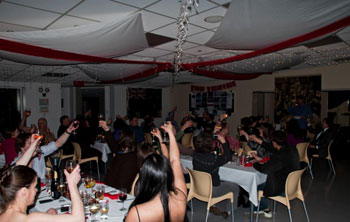 13 of the Scott Base crew and 23 guests from the United States McMurdo station attended our Mid-Winter dinner. We kept our chef in the kitchen to work her magic on the food, whilst we feasted under the fairy lights and decorations.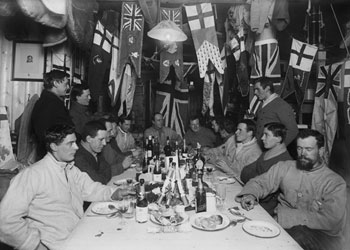 In the speeches homage was paid to the early explorers such as Scott, Shackleton and Amundsen, who were among the first to celebrate this special occasion in the Antarctic calendar.
A similar celebration took place at McMurdo station on Sunday with a flamboyant buffet and dancing, which many of the team from Scott Base attended. They even had what must be the biggest bowl of salad in Antarctica straight from the hydroponics greenhouse!
As I mark off the dates on the calendar, it is becoming clear that we are half way through the long Antarctic night. Only two more months of darkness before the sun pops out for a quick peek!
World cup crazy!
Mindy, Thursday, June 24th, 2010
Temperature: -34.5°C
Wind speed: 0 knots
Temp with wind chill: approximately -34.5°C
Moonrise: above horizon
Moonset: above horizon
You'd think that an international soccer (sorry, football) championship over 5000km away would be the last thing on our minds here in the Antarctic – but that can't be further from the truth! FIFA World Cup mania has solidly hit Scott Base, the New Zealand Antarctic research station. The marvels of modern technology ensure that matches are available via satellite, so we are able to catch every game we want to see. More specifically, we are interested in following the 'All Whites', the New Zealand national team. While many of us wintering at Scott Base are from countries other than New Zealand, we are united in our support of this Cinderella team.
It's amazing that the love of a sport like soccer (sorry, football) can transcend nations and even centuries of time. Apparently even Captain Scott and the lads of the British Antarctic Expedition were quite into the game, playing as often as they could until they lost the light. Current day Ross Island inhabitants are fortunately able to play indoors every week in a small gymnasium at McMurdo, the nearby United States research station.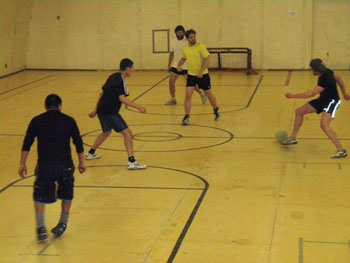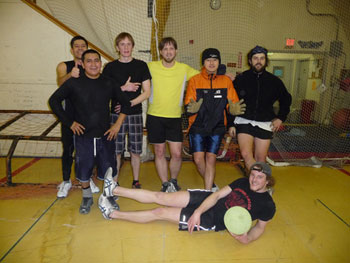 Here at Scott Base we'll continue to watch the FIFA drama unfold. The All Whites are having a great tournament and we wish them all the best. We'll definitely be watching their upcoming match against Paraguay. Go All Whites!
Antarctica through a lens
Jane, Thursday, May 13th, 2010
Temperature: -19°C
Wind Speed: 5 knots
Temp with wind chill: -20°C
Sunrise: August 19th 12.26pm
Herbert Ponting was the photographer on the British Antarctic Expedition led by Captain Scott in 1910-13. He not only documented the expedition through photos and film but often entertained other expedition members by giving talks and showing images of his travels to foreign countries.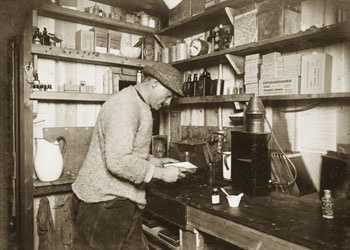 As we begin to focus on conserving objects from the expedition's galley and Ponting's darkroom we have the opportunity to work on some of the materials that he would have used.
It was Scott who coined the phrase to 'pont' which meant to 'pose until nearly frozen, in all sorts of uncomfortable positions', an activity we are becoming well used to down here. Meares, who looked after the expedition dogs, even contributed a humorous poem to the South Polar Times entitled 'Pont, Ponko, Pont' about Ponting's skill as a photographer and the talks he gave.
Among all the interesting artefacts we take out of the crates every week are glass plate negatives. Many of them have not been exposed but I have found a few with images, although often in quite poor condition. Among them are images of geological specimens and tables, maps and animals.
Many of the expedition members would give talks on particular subjects as a form of entertainment. The glass plate negatives I have been conserving may have been used by other members of the crew to illustrate subjects on which they lectured.
This Antarctic pastime is as common now as it was then. Lectures by scientists on a wide range of Antarctic subjects occur regularly at McMurdo Station (the American science base over the hill).
Now, as the afternoon twilight dwindles, I am off to McMurdo to see a talk on night time photography.
The Scott Polar Research Institute, Royal Geographical Society and Natural History Museum have some of Ponting's photos for you to see online.
Saying good bye to the sun
Mindy, Monday, May 10th, 2010
Sunrise: last sunrise for the season – April 26th (until sometime in August)
Temperature: -19.1°C
Wind Speed: 0 knots
Temp with wind chill: -19.1°C
Winter has arrived and the sun has dipped below the horizon, not to return until sometime in August. To commemorate this important annual event we held a Scott Base 'Sundown' party, inviting our friends from the nearby American scientific base (McMurdo Station) to join in the festivities.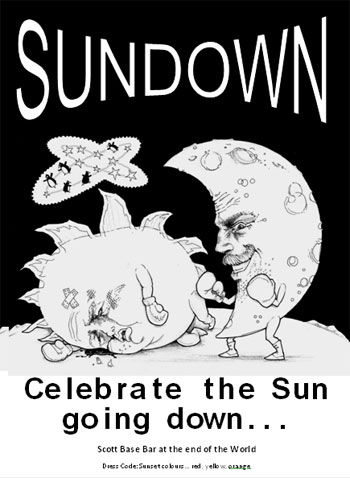 Our social committee flew into action. Suns, moons and stars adorned the walls and ceiling, and strands of white fairy lights became our starry night sky. We surrounded ourselves with decorations in all the colours of the sun - bright oranges, yellows and reds. Guests were encouraged to dress in these colours, and a mad flurry ensued to secure the brightest and sunniest costumes available.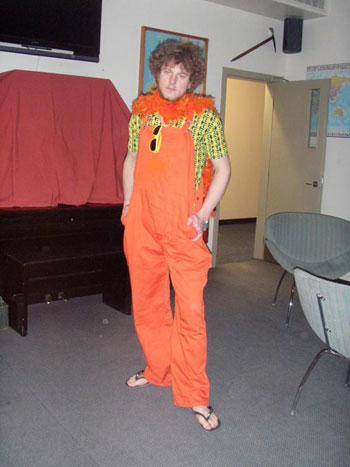 Costume parties (also called fancy dress parties) are one of the long-standing traditions of Antarctica. Just as we don costumes to help mark special occasions, so did the historic explorers. A photo from mid-winter celebrations in 1912 show Tryggve Gran, a Norwegian skiing expert on Captain R. F. Scott's British Antarctic Expedition, dressed as a clown amidst sledging flags hung about Cape Evans hut.
The base has returned to normal now, and the costumes are tucked away. Hopefully we'll bring them out again this winter – maybe even to celebrate the return of the sun in a few months' time.
In partnership with
Blog search