Archive for the 'Social life' Category
Aurora hunters
Jane, Monday, May 24th, 2010
Temperature: -36.3°C
Wind Speed: 0 knots
Temp with wind chill: -36°C
Sunrise: August 19th 12.26pm
Sunset: n/a
I decided to join Antarctica New Zealand's science technician, Steven, and base engineer, Hayden, on a walk up Observation Hill to look for auroras (natural light displays which occur in the sky, usually at night) and try out our new night photography skills.
It took us half an hour to prepare for the trip down the road. We donned full ECW (Extreme Cold weather) gear, ski goggle lenses changed from dark to clear, head torches and radios were checked and we took plastic bags for our cameras.
The path up the hill was covered with snow so it was quite difficult to see it in places, but we figured that up was generally a good direction.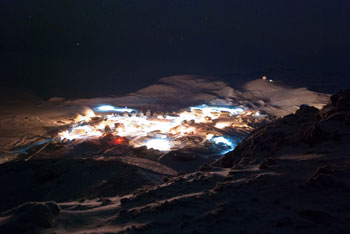 The temperature dropped to about -40°C while we were out, but we were kept snug in our enormous jackets. Looking down from the top of the hill, the bright lights of McMurdo, the wind farm and our home at Scott Base were clearly visible. It was a clear night up above too with a dazzling array of stars visible. I was even lucky enough to see an iridium flare which is caused by sunlight reflected from the solar panels of a satellite in orbit (something I learned at our night time photography class).
Unfortunately, not one aurora was visible.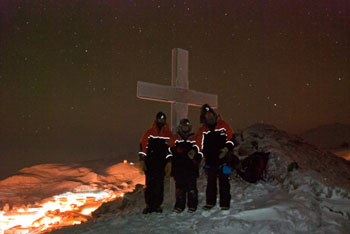 We climbed back down to the vehicle and headed home tired and starting to feel a bit cold. As we pulled back in to Scott Base I glanced out of the window towards Mount Erebus and what did I see? A faint green Aurora.
Say cheese!
Nicola, Monday, May 17th, 2010
Temperature: -25°C
Wind Speed: 10 knots
Temp with wind chill: -35°C
Ever since Herbert Ponting, the expedition's 'camera artist', photographed Captain Scott surrounded by the men of the 1910-13 British Antarctic Expedition (BAE), group photos have become a bit of an Antarctic tradition.
Down the hallway at Scott Base is a lengthening display of framed photographs showing all the teams that have wintered at the base since New Zealand's Antarctic Base was established in 1957. The first black and white photo was taken in the Trans Antarctic Expedition (TAE) hut and includes Sir Ed Hillary and Peter Mulgrew, but down the years the teams have become quite inventive. Some are taken wearing dinner jackets or beach wear out on the Ice, celebrating a new building or even balanced in a human pyramid.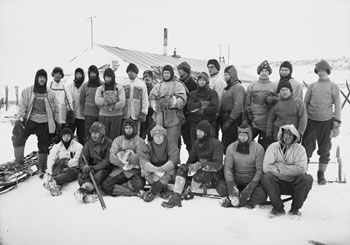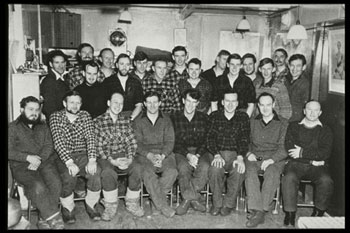 I find it fascinating to look at the faces from previous years, recognising some who, like myself and Mindy, returned for another season, and realising just how few people have actually had the opportunity to spend winter on the Ice.
Last week, making the most of the dwindling light, and leaving a fire crew from McMurdo in charge of the base, we all headed up to the wind farm to attempt to create a masterpiece worthy of the wall, and to record us for Scott Base history. We 'ponted' as best we could (see Jane's last blog) but it seems that some things haven't changed since 1911 – there is always someone not ready, blinking, or looking away from the camera!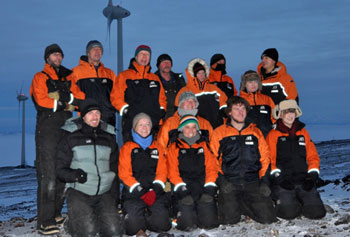 Saying good bye to the sun
Mindy, Monday, May 10th, 2010
Sunrise: last sunrise for the season – April 26th (until sometime in August)
Temperature: -19.1°C
Wind Speed: 0 knots
Temp with wind chill: -19.1°C
Winter has arrived and the sun has dipped below the horizon, not to return until sometime in August. To commemorate this important annual event we held a Scott Base 'Sundown' party, inviting our friends from the nearby American scientific base (McMurdo Station) to join in the festivities.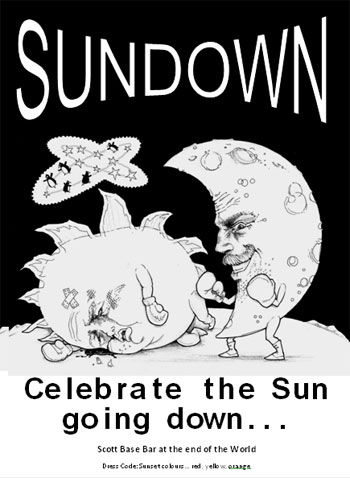 Our social committee flew into action. Suns, moons and stars adorned the walls and ceiling, and strands of white fairy lights became our starry night sky. We surrounded ourselves with decorations in all the colours of the sun - bright oranges, yellows and reds. Guests were encouraged to dress in these colours, and a mad flurry ensued to secure the brightest and sunniest costumes available.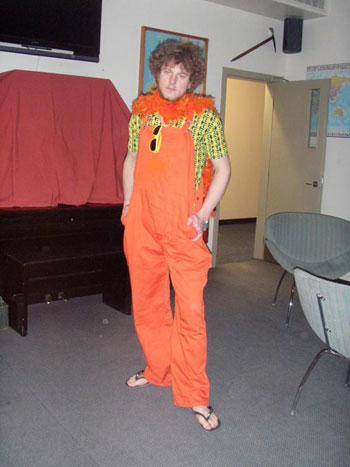 Costume parties (also called fancy dress parties) are one of the long-standing traditions of Antarctica. Just as we don costumes to help mark special occasions, so did the historic explorers. A photo from mid-winter celebrations in 1912 show Tryggve Gran, a Norwegian skiing expert on Captain R. F. Scott's British Antarctic Expedition, dressed as a clown amidst sledging flags hung about Cape Evans hut.
The base has returned to normal now, and the costumes are tucked away. Hopefully we'll bring them out again this winter – maybe even to celebrate the return of the sun in a few months' time.
Trivia night
George, Tuesday, May 4th, 2010
Temperature: -19°C
Wind Speed: -15°C
Temp with wind chill: -34°C
Sunrise: Sometime in August
Sunset: Last Sunday
Q1. What was the name of the vessel which Shackleton sailed to South Georgia?
Q2. Which animal has a den called a holt?
Q3. In the Asterix and Obelix cartoon series, what was the name of the druid?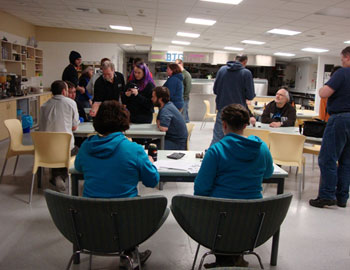 Last night we saw our dining room at Scott Base (New Zealand's science base in the Ross Sea region of Antarctica) transformed into a gaming hall, as we all settled down to a hard-fighting game of trivia. Proceedings were led by Sandy, our base domestic, who was the quiz master for the evening, and aided by Jane, who put together the questions to tax our memories and baffle our brains.
Battling for trivial supremacy were two Scott Base teams; the girls on one side, the boys on the other, and a further 5 teams from McMurdo Base, (the United States science base over the hill from Scott Base). On our team, representing the Antarctic Heritage Trust, were Nicola, Mindy and I, alongside Bobbie our chef.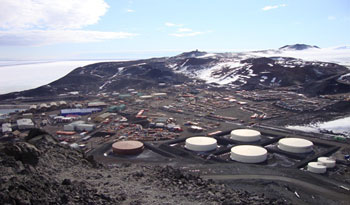 Scott Base has always enjoyed a close and genial relationship with its American neighbours, and especially now that the sun is down (and movement outside is becoming restricted), these sorts of group events are becoming all the more important.
Whether we lacked the mental edge or simply the competitive spirit, both Scott Base teams managed to finish last - with the girls just coming out in front. Fun was had by all, and as the Americans celebrated their wins, our team contented themselves with consolation prizes of crisps and chocolate.
A1. The James Caird
A2. The otter
A3. Getafix
The best journey in the world
Mindy, Thursday, April 29th, 2010
Temperature: -26.4°C
Wind Speed: 13 knots
Temp with wind chill: approximately -47°C
Sunrise: 11:06am
Sunset: 2:36pm
Inspired by accounts of the early Antarctic explorers man-hauling across the frozen Antarctica landscape, I desperately wanted to give it a go. With 3 other willing participants, we carefully planned and procured the necessary supplies and equipment.
The words '[Left]…a little before 11 in the morning after being photoed with our sledge in the dark by flashlight…' could easily have been an account of our own expedition, but it's really an extract from the journal of Dr. Edward Wilson, Chief Scientific Officer of Captain Scott's 1910-13 Antarctic expedition. Wilson, Lt. Henry "Birdie" Bowers and Apsley Cherry-Garrard spent 19 days in 1911 on a superhuman journey to procure Emperor penguin eggs from Cape Crozier, (located on the other side of Ross Island).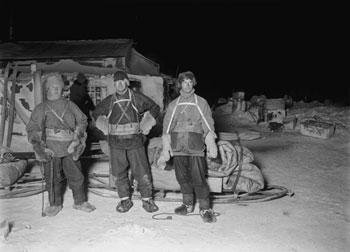 Despite re-tracing a portion of their route, our mini expedition was nowhere near as ambitious. On a relatively calm day and in the dying light of the season, we covered the 12km round-trip between Scott Base and the Antarctica New Zealand field training site in 4 hours. Our loaded Nansen sled required us to pull a load of 50 kg per person. Comparatively, Wilson and his companions trekked 97 km from their base at Cape Evans to Cape Crozier in the darkness and bitter cold of winter, with 106 kg per man on two sleds.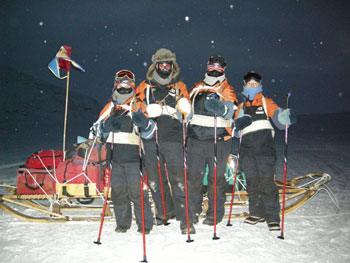 It's hard to measure up to those numbers. Reflecting on the experience, it's humbling to know that we plodded through what Cherry-Garrard considered to be 'the only bit of good pulling we were to have' (The Worst Journey in the World).
If imitation is truly the sincerest form of flattery, I can now fully appreciate how tough these men were.
In partnership with
Blog search