Archive for the 'Social life' Category
Mid-Winter celebrations
Jane, Monday, June 28th, 2010
Temperature: -37°C
Wind Speed: 5 knots
Temp with wind chill: -45°C
Sunrise: none
Sunset: none
The sun set weeks ago, but this weekend, as our friends in the Northern hemisphere watch the light begin to fade, we at the bottom of the world celebrated its return– even if it is not going to fully return for another couple of months!
Mid winter celebrations have taken place all over the continent and greetings have been exchanged between international bases. Extravagant meals were the order of the day, not least here at New Zealand's Scott Base.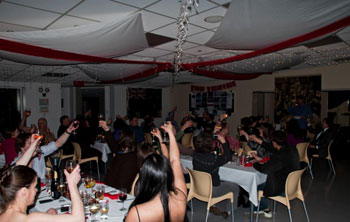 13 of the Scott Base crew and 23 guests from the United States McMurdo station attended our Mid-Winter dinner. We kept our chef in the kitchen to work her magic on the food, whilst we feasted under the fairy lights and decorations.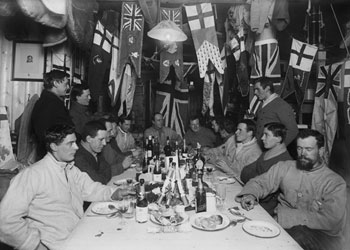 In the speeches homage was paid to the early explorers such as Scott, Shackleton and Amundsen, who were among the first to celebrate this special occasion in the Antarctic calendar.
A similar celebration took place at McMurdo station on Sunday with a flamboyant buffet and dancing, which many of the team from Scott Base attended. They even had what must be the biggest bowl of salad in Antarctica straight from the hydroponics greenhouse!
As I mark off the dates on the calendar, it is becoming clear that we are half way through the long Antarctic night. Only two more months of darkness before the sun pops out for a quick peek!
World cup crazy!
Mindy, Thursday, June 24th, 2010
Temperature: -34.5°C
Wind speed: 0 knots
Temp with wind chill: approximately -34.5°C
Moonrise: above horizon
Moonset: above horizon
You'd think that an international soccer (sorry, football) championship over 5000km away would be the last thing on our minds here in the Antarctic – but that can't be further from the truth! FIFA World Cup mania has solidly hit Scott Base, the New Zealand Antarctic research station. The marvels of modern technology ensure that matches are available via satellite, so we are able to catch every game we want to see. More specifically, we are interested in following the 'All Whites', the New Zealand national team. While many of us wintering at Scott Base are from countries other than New Zealand, we are united in our support of this Cinderella team.
It's amazing that the love of a sport like soccer (sorry, football) can transcend nations and even centuries of time. Apparently even Captain Scott and the lads of the British Antarctic Expedition were quite into the game, playing as often as they could until they lost the light. Current day Ross Island inhabitants are fortunately able to play indoors every week in a small gymnasium at McMurdo, the nearby United States research station.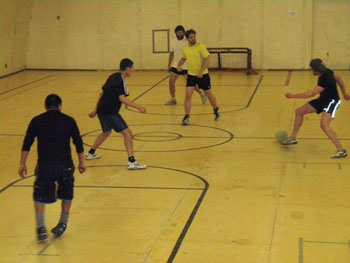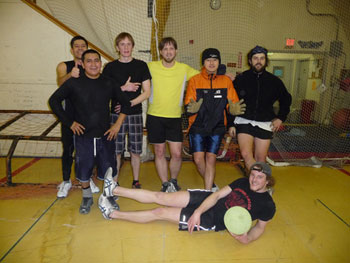 Here at Scott Base we'll continue to watch the FIFA drama unfold. The All Whites are having a great tournament and we wish them all the best. We'll definitely be watching their upcoming match against Paraguay. Go All Whites!
Aurora hunters - part 2
Jane, Tuesday, June 22nd, 2010
Temperature: -37.6°C
Wind Speed: 5 knots
Temp with wind chill: -45°C
Sunrise: None
Sunset: None
A few of us at Scott Base, New Zealand's Antarctic research station, had been waiting for a still night when we could walk up Crater Hill and look at auroras (natural light displays in the sky, usually observed at night, particularly in the polar regions). For many days we watched the weather. The temperature would be about -20 to -25°C with no wind, but by the time we finished work in the evening the wind would pick up to about 20 knots which means that it would feel as if it was about -50°C or colder, even worse on top of the hill. But on Monday the temperature was a balmy -25°C, with no wind and no clouds - perfect conditions!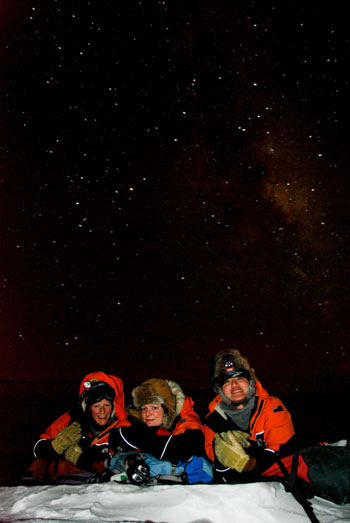 We were dropped off at the base of the hill and climbed up the scree slopes. At the top of the hill there is a crater with an ice lake. The frozen lake has humps in it where the ice has been compressed by pressure and big and small cracks lead out from them. A torch on the ice showed up the huge ice crystals and cracks that were forming. It was really beautiful!
At the edge of the crater we looked down on Scott Base and as we did so a faint aurora became visible. As we started to walk back to the base the aurora became stronger and seemed to dance over the base. The display was so amazing that we had to radio back to Scott Base to advise that we would be back later than the sign out time we had given We were even too distracted to think about taking out our cameras!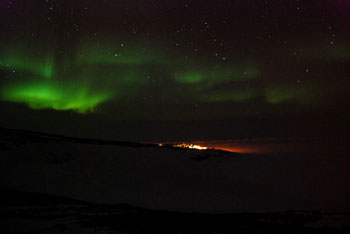 I had been contemplating whether or not to go out as I was quite tired after work, but I am so glad I did. It is very easy to become complacent about where you are and not take full advantage of this wonderful place. We are a bit blasé about the auroras now. We have the opportunity to see them nearly every day. We just need to remind ourselves every now and then that we are privileged to have the opportunity to see them at all. This was a fantastic night, one of those nights that reminds me of how lucky I am to be here and what an amazing place this is.
Even Antarctic explorers have birthdays!
Mindy, Monday, June 14th, 2010
Temperature: -26.5°C
Wind Speed: 10 knots
Temp with wind chill: approximately -42°C
Moonrise: below horizon
Moonset: below horizon
"Tuesday, June 6 [1911] - … It is my birthday, a fact I might easily have forgotten, but my kind people did not. At lunch an immense birthday cake made its appearance and we were photographed assembled about it…" (Captain Robert Falcon Scott)
Revelry continued that night with a fine dinner of "…seal soup, roast mutton and red currant jelly, fruit salad, asparagus and chocolate…" (Scott). By all accounts it was a festive occasion. Sadly, this was the last birthday Scott would celebrate, as he and 4 other British Antarctic Expedition members perished returning from the South Pole in early 1912.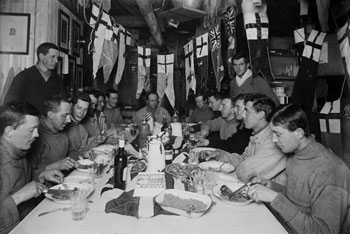 Fast-forward nearly 100 years to present day Scott Base, where we also spent the 6th of June celebrating Scott's birthday. We all take turns preparing dinner on Sundays, and coincidentally I had volunteered to cook supper that night. Hardly anything as fancy as Clissold, cook for the British Antarctic Expedition, had prepared – just a humble spaghetti and meatball dinner. And, despite having the night off, our chef Bobbie agreed to make the dessert. Scott's 2010 birthday cake was decorated as a "Union Jack" – ceremoniously cut by Tom, Scott Base Winter Base Manager.
Glasses raised, our modest celebration closed with a toast to Captain Scott. The sentiment was plain and simply stated – "…to Scott".
Yarn and cookies - a cosy winter night at Scott Base
Mindy, Friday, May 28th, 2010
Temperature: -40.7°C
Wind Speed: No wind
Temp with wind chill: -40.7°C
Moonrise: Below horizon
Moonset: Below horizon
It's Tuesday night, and we've invited the knitters, sewers and those who crochet to Scott Base for a night of industrious crafting. Usually we trot over to McMurdo Station (the nearby American scientific base) for this weekly event, but tonight we hosted a session in our lounge. Bobbie (the Winter Chef for Scott Base) prepared goodies and we turned on the fireplace, warming the room for the arrival of our guests.
Knitting and crochet needles flew as we bantered casually and sampled Bobbie's handiwork. I'm just learning how to knit, but others are quite experienced. Several of the group members are working to make the 49 squares required to create a blanket to be donated to the 'Warm Up America' charity back in the U.S.
There are certainly no idle hands in this group. The cold, dark Antarctic winter does little to slow their activity. Maybe there's no such thing as a "spare moment" – with little projects to be done there's always something to occupy your time. I found a lovely historic photo that suggests it was also this way for Antarctic explorers – always mending, preparing or working on odds and ends.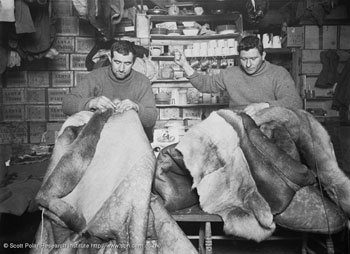 So I'll continue to practice my knitting skills, and maybe by the end of the winter I'll be able to contribute a square to the blanket. It's worth a shot – and there are worse things in life than a pleasant night of knitting by a warm fire…
In partnership with
Blog search