Archive for the 'Antarctica' Category
To rise or not to rise
Nicola, Thursday, July 1st, 2010
Temperature: -38°C
Wind Speed: 5 knots
Temp with wind chill: -45°C
Sunrise: None
Sunset: None
Last week Georgina, Alf and I spent an evening with Bobbie learning how to make bread, and after all the kneading, proofing and baking we were very proud of our beautiful loaves.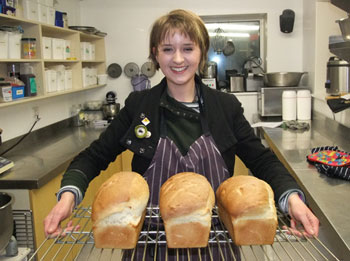 It would have been an endless job for Clissold, the cook on Captain Scott's 1910 expedition, to make bread for 25 men. To save time he put together an alarm from scavenged bits and pieces to let him know when his dough had risen. Scott mentions the mechanism in his diary and describes how the risen dough would complete an electrical circuit setting off a bell and lighting a red lamp.
Clissold's inventiveness is not so surprising as he was an artificer in the Royal Navy by trade and had learnt to cook to qualify for a place on the expedition. His knowledge was to be appreciated when he advised on the motor vehicles and supported them on several depot-laying journeys.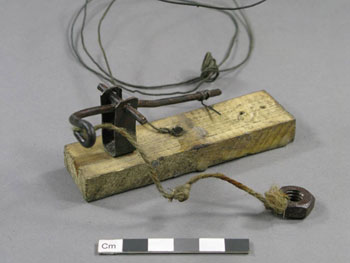 We are trying to work out if a small device found in the galley, where Clissold would have made his bread, is part of Clissold's dough-rising alarm. Griffith Taylor (the expedition's senior geologist) in his memoirs gives a little, but not very detailed, drawing of the mechanism and describes how Clissold put the dough in a big pot on a trolley and wheeled it to his bedside to rise under the contraption. 'When the dough rose sufficiently it pushed up a disc which over balanced a gutter. Down this ran a lead ball which made contact and rang a bell!'
The jury is still out; with so many scientists on the expedition it could be any number of pieces of equipment – what do you think?
Mid-Winter celebrations
Jane, Monday, June 28th, 2010
Temperature: -37°C
Wind Speed: 5 knots
Temp with wind chill: -45°C
Sunrise: none
Sunset: none
The sun set weeks ago, but this weekend, as our friends in the Northern hemisphere watch the light begin to fade, we at the bottom of the world celebrated its return– even if it is not going to fully return for another couple of months!
Mid winter celebrations have taken place all over the continent and greetings have been exchanged between international bases. Extravagant meals were the order of the day, not least here at New Zealand's Scott Base.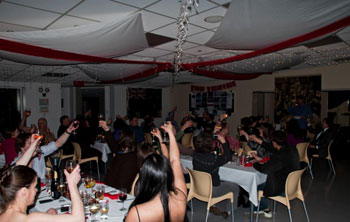 13 of the Scott Base crew and 23 guests from the United States McMurdo station attended our Mid-Winter dinner. We kept our chef in the kitchen to work her magic on the food, whilst we feasted under the fairy lights and decorations.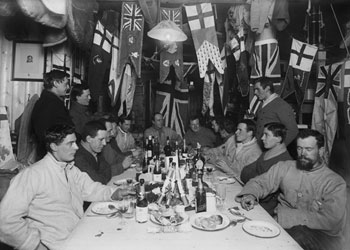 In the speeches homage was paid to the early explorers such as Scott, Shackleton and Amundsen, who were among the first to celebrate this special occasion in the Antarctic calendar.
A similar celebration took place at McMurdo station on Sunday with a flamboyant buffet and dancing, which many of the team from Scott Base attended. They even had what must be the biggest bowl of salad in Antarctica straight from the hydroponics greenhouse!
As I mark off the dates on the calendar, it is becoming clear that we are half way through the long Antarctic night. Only two more months of darkness before the sun pops out for a quick peek!
Aurora hunters - part 2
Jane, Tuesday, June 22nd, 2010
Temperature: -37.6°C
Wind Speed: 5 knots
Temp with wind chill: -45°C
Sunrise: None
Sunset: None
A few of us at Scott Base, New Zealand's Antarctic research station, had been waiting for a still night when we could walk up Crater Hill and look at auroras (natural light displays in the sky, usually observed at night, particularly in the polar regions). For many days we watched the weather. The temperature would be about -20 to -25°C with no wind, but by the time we finished work in the evening the wind would pick up to about 20 knots which means that it would feel as if it was about -50°C or colder, even worse on top of the hill. But on Monday the temperature was a balmy -25°C, with no wind and no clouds - perfect conditions!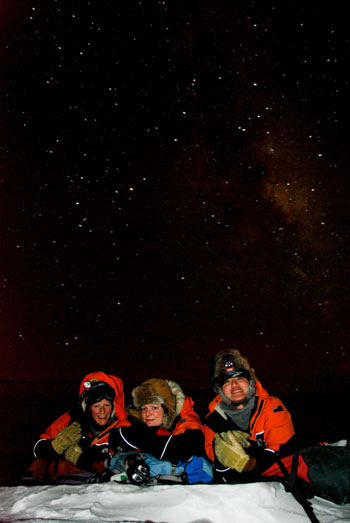 We were dropped off at the base of the hill and climbed up the scree slopes. At the top of the hill there is a crater with an ice lake. The frozen lake has humps in it where the ice has been compressed by pressure and big and small cracks lead out from them. A torch on the ice showed up the huge ice crystals and cracks that were forming. It was really beautiful!
At the edge of the crater we looked down on Scott Base and as we did so a faint aurora became visible. As we started to walk back to the base the aurora became stronger and seemed to dance over the base. The display was so amazing that we had to radio back to Scott Base to advise that we would be back later than the sign out time we had given We were even too distracted to think about taking out our cameras!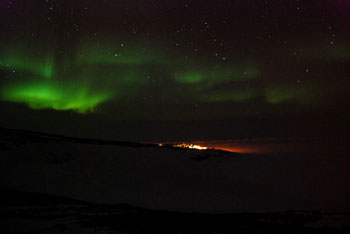 I had been contemplating whether or not to go out as I was quite tired after work, but I am so glad I did. It is very easy to become complacent about where you are and not take full advantage of this wonderful place. We are a bit blasé about the auroras now. We have the opportunity to see them nearly every day. We just need to remind ourselves every now and then that we are privileged to have the opportunity to see them at all. This was a fantastic night, one of those nights that reminds me of how lucky I am to be here and what an amazing place this is.
Mould!
George, Thursday, June 17th, 2010
Temperature: -26.5°C
Wind Speed: 10 knots
Temp with wind chill: approximately -42°C
Moonrise: below the horizon
Moonset: below the horizon
This season we are working on artefacts from Herbert Ponting's darkroom at Cape Evans (Ponting was the official photographer on Captain Scott's 1910 expedition). Amongst the items are 130 unopened packages of glass plate negatives, all of which have been affected by mould. Mould is highly damaging to paper and card, making it weak and brittle. In previous years the darkroom has experienced high levels of relative humidity at times, due to the build-up of snow and ice melting during the summer months, when temperatures can go above freezing. Add to this, a room with limited air circulation, and you have the perfect breeding ground for mould! The mould looks very interesting, like a creeping carpet of fluff, and is a type of mildew more commonly found on wood.
Before beginning conservation treatment, our science technician helped me to try and find out if the mould is still alive. All our attempts at cultivating the mould on agar plates proved negative, which would imply that the spores (even the dormant ones) have been killed by the natural freeze-drying process of the Antarctic environment. Very good news!
To be on the safe side though, in treatment, we removed all the mould that could safely be accessed, and treated the items with 70% ethanol solution. Sometimes the packages are stuck together and have to be carefully separated. Almost all are badly degraded and some need extensive repairs and consolidation.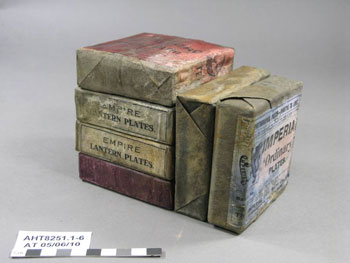 It is great to think that in a few months' time these packages will be returned to their shelves in the hut, which is also undergoing conservation. The next job will be to ensure they remain fungal-free for many years to come!
Even Antarctic explorers have birthdays!
Mindy, Monday, June 14th, 2010
Temperature: -26.5°C
Wind Speed: 10 knots
Temp with wind chill: approximately -42°C
Moonrise: below horizon
Moonset: below horizon
"Tuesday, June 6 [1911] - … It is my birthday, a fact I might easily have forgotten, but my kind people did not. At lunch an immense birthday cake made its appearance and we were photographed assembled about it…" (Captain Robert Falcon Scott)
Revelry continued that night with a fine dinner of "…seal soup, roast mutton and red currant jelly, fruit salad, asparagus and chocolate…" (Scott). By all accounts it was a festive occasion. Sadly, this was the last birthday Scott would celebrate, as he and 4 other British Antarctic Expedition members perished returning from the South Pole in early 1912.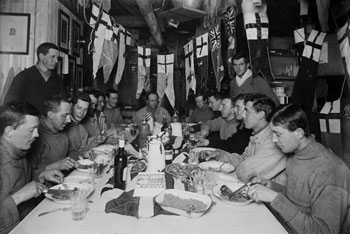 Fast-forward nearly 100 years to present day Scott Base, where we also spent the 6th of June celebrating Scott's birthday. We all take turns preparing dinner on Sundays, and coincidentally I had volunteered to cook supper that night. Hardly anything as fancy as Clissold, cook for the British Antarctic Expedition, had prepared – just a humble spaghetti and meatball dinner. And, despite having the night off, our chef Bobbie agreed to make the dessert. Scott's 2010 birthday cake was decorated as a "Union Jack" – ceremoniously cut by Tom, Scott Base Winter Base Manager.
Glasses raised, our modest celebration closed with a toast to Captain Scott. The sentiment was plain and simply stated – "…to Scott".
In partnership with
Blog search