Archive for the 'Antarctica' Category
A stretch of the legs
Nicola, Monday, July 19th, 2010
Temperature: -23.3°C
Wind speed: 10 knots
Temp with wind chill: -35°C
Moonrise: 1.15pm
Moonset: 5.36pm
At midday Bobbie and I meet at the back door dressed in hats, face masks and goggles. Turning on our head torches and radioing through our intentions, we head out for our daily walk along the snow-covered path which climbs up the hill at the back of Scott Base.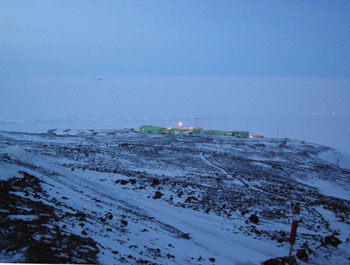 A century ago Captain Scott advocated the physical and mental benefits of regular outdoor exercise during the dark winter months, encouraging the men to take some form after lunch. In his diary he wrote 'the majority of people seem anxious to get exercise, but one or two like the fire better'. In particular it was difficult to get the photographer Ponting out of the hut and Atkinson 'only managed by dragging him out to his own work, digging holes in the ice'.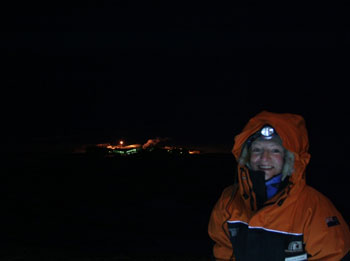 We started our walks at the beginning of winter as a way of getting some fresh air and to experience the changes in the landscape over the months. And we've certainly seen some changes. From the top of the hill the base was first surrounded by pink ice, then gradually the lights began to go on and sometimes it would fade in the blowing snow.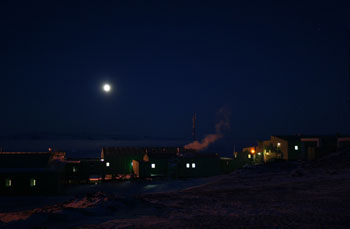 Several times the weather has been too bad to go out, and on occasions the dark and the sound of the wind have been less than appealing, but once out we always return reinvigorated.
A trip to Pegasus
Jane, Thursday, July 15th, 2010
Temperature: -20.6°C
Wind speed: 45 knots
Temp with wind chill: -55°C
Moonrise: Below horizon
Moonset: Below horizon
We are immersed in a Condition 1* storm today. The wind is howling and the building is shaking. We are confined to Base because of the extreme cold and lack of visibility.
In 1970 similar weather caused a US Navy plane to make an emergency landing. The weather came in from the south, just like today, and the pilots could not make out the runway on the Ross Ice Shelf because of zero visibility. They were beyond the point at which they could turn around or find an alternative landing place. All 80 passengers were uninjured but the plane was badly damaged.
Last Sunday the weather was much better; -25°C and just 10 knots of wind. A group of us drove out to see the plane which has since given its name to the Pegasus Air Field.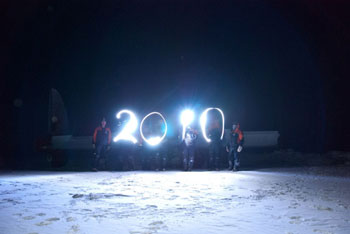 In keeping with ensuring the continent is kept as pristine as possible, the plane is to be removed this year and work has already begun to collect the debris around it.
I drove us home in the Hagglund - my first time driving one. I switched the lights off to see if I could drive in whiteout conditions using just the satellite navigation. Unfortunately, despite the ice shelf being a big, open, flat area, we thought it best to switch the lights back on!
*Condition 1 is defined as visibility less that 30m or sustained winds over 100 km/h or windchill lower than minus 73°C.
Treading softly in the Antarctic
Mindy, Monday, July 12th, 2010
Temperature: -18°C
Wind Speed: 30 knots
Temp with wind chill: approximately -50°C
Moonrise: below horizon
Moonset: below horizon
We're here for just about seven months all told, living in Antarctica at New Zealand's Scott Base and working to conserve artefacts from Captain Scott's Terra Nova expedition hut at Cape Evans. Ever wondered what effect all of this has on the Antarctic environment? You'll be pleased to know that Antarctica New Zealand has a well-developed plan that directs our activities on ice, with a very clear aim to minimize the environmental impact of our presence here in the Antarctic.
So how does this translate into action? As it is winter, we don't get out in the field much these days but there are many things we can do around base. Wind turbines are working away to generate energy and reduce our fossil fuel consumption but it still makes sense to turn off the lights when we leave the room. Showers are kept short to conserve water, and everyone makes proper use of the recycling system, developed to sort and prepare waste for return to New Zealand.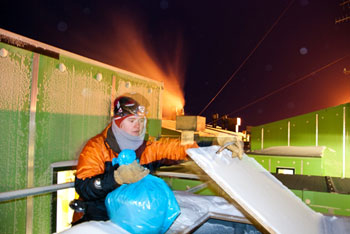 Waste water and sewage are processed properly in our on-base treatment plant. Energy efficient light bulbs are everywhere, including in the photographic set-up in our conservation lab. All these positive actions mean we're doing our part to keep the Antarctic environment happy and healthy.
Taking the waters – Antarctic style
Nicola, Thursday, July 8th, 2010
Temperature: -31°C
Wind speed: 10 knots
Temp with wind chill: -45°C
Sunrise: none
Sunset: none
I'm always surprised at the similarities between our Antarctic lives and the experiences of the men on the expeditions 100 years ago. But the day after Midwinter with the temperature at -25°C we took part in a Scott Base tradition for which there seems to be no comparison – the polar plunge.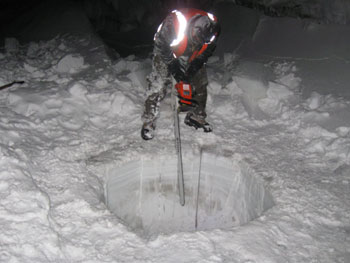 This is when we cut a hole in the sea ice, put on safety harnesses and take it in turns to jump into the icy 1.7°C waters of the Ross Sea. As I plunged through the floating slush of ice and saw the dark blue-green waters around me, the cold instantly numbed my skin and fingers, and I forgot how to breathe. For a split second there was a wonderfully thrilling feeling of being in the unknown … and so I did it again!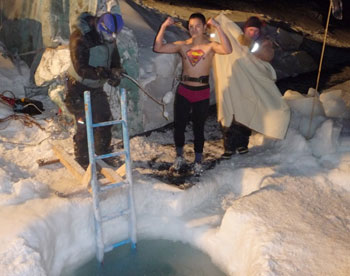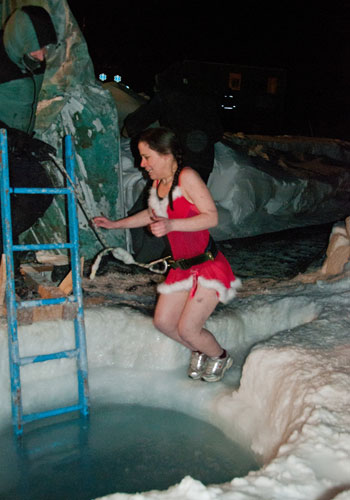 Followed up with saunas and hot showers we shared video clips of our plunges – some did it wearing just shoes, some in fancy dress or bikinis; some made a big splash and others dipped a toe in the water then elegantly slid in without getting their hair wet!
Later I remembered that the only time the members of the expeditions had dipped into the water was by accident, putting a leg through the tide-crack, or falling through thin broken sea ice, some never to be seen again.
Why do we do it? Maybe it's because we all appreciate experiencing the extremes of the Antarctic environment - provided there's a warm sauna to run to afterwards!
Drilling for ice!
George, Monday, July 5th, 2010
Temperature: -31°C
Wind Speed: 10 knots
Temp with wind chill: approximately -45°C
Moonrise: n/a
Moonset: n/a
Yesterday I had a very special day. A four man team from the American Antarctic Research Station McMurdo and New Zealand's Scott Base were going on a scientific field trip in a five-seater Hagglund vehicle – a Swedish-built snow tank. They offered the remaining seat to the Antarctic Heritage Trust as the trip aimed to reach Captain Scott's hut at Cape Evans. After drawing names from a hat, I found myself lucky enough to be packing my ECWs (extreme cold weather gear).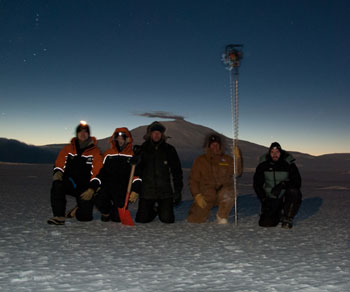 We travelled out across the ice field, an area of the frozen Ross Sea, winding our way carefully along a marked route using GPS, avoiding known areas of thin ice and tide-cracks. The weather began to deteriorate, and as the wind whipped up flurries of ice and snow around our vehicle we lost visibility.
Contacting the weather people at McMurdo via radio, the forecast was grim, and so we decided against pushing on to Cape Evans, instead setting up the scientific recording equipment where we were. Two test holes were drilled, showing the ice to be a suitable 1.5m thick and then we erected a probe to measure the rate and extent of the growing sea ice which will stay in place for a year.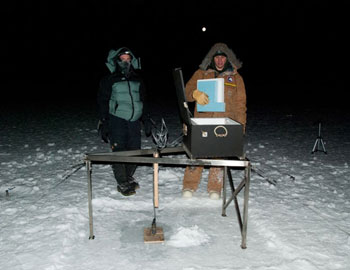 But the weather here is fickle and instead of the predicted blizzard, the wind died down as soon as we began work and everything became perfectly still. It was quite extraordinary being in such an expanse of moonlit ice, and after so many months in the comfort of Scott Base, it impressed on me again what an eerily beautiful and quite desolate place Antarctica can be.
In partnership with
Blog search