Archive for the 'Antarctica' Category
Big Brother, Antarctica
George, Thursday, August 5th, 2010
Temperature: -30.8°C
Wind Speed: 23 knots
Temp with wind chill: approximately -60°C
Sunrise: none
Sunset: none
Character: a grumpy diesel mechanic
Line of dialogue: has anybody seen my chicken?
Sound effect: siren
Prop: mop
Prop: bottle of mouthwash
Every year the international bases of Antarctica are invited to take part in the 48 hour film festival; a continent-wide effort at movie-making!
Last weekend we received the list of elements above, and everyone on base discussed story-lines to incorporate them. We wrangled for hours on whether we wanted something cute and quirky, or a zombie-killing horror! Finally, we hit upon the idea of doing a spoof of Big Brother, the reality TV show in which contestants are locked together in a house and vote against each other for eviction. Jane and I pulled together a loose script and the rest was ad-libbed by the base members-cum-actors!
Now all the films from the other Antarctic bases, such as Poland, Germany, Japan and India have been shared and voting has begun! Efforts varied widely from the brave to the baffling to the utterly brilliant! The Norwegian station, Troll, filmed theirs outside in a tent with explosively high winds; the UK's base at Rothera involved a funny James Bond-style plot with an evil megalomaniac called 'Dr Meltdown'; and the French contribution from Dumont D'Urville centered around a time-machine and a lost chicken.
All agree that Scott Base has done a grand job - but - will we win? Either way, we're just pleased to have cut a dash on the Antarctic movie-making circuit and to bask in our 5 minutes of filmic fame!
Whisky and soda
Nicola, Monday, August 2nd, 2010
Temperature: -30.8°C
Wind speed: 23 knots
Temp with wind chill: -60°C
Moonset: 11.39am
Moonset: 5.42pm
Last week I conserved a small cardboard box filled with little gas canisters that were for use in a soda siphon to make sparkling water. Both Sir Ernest Shackleton and Captain Scott took soda siphons with them on their expeditions, and a couple can be seen on the table in the picture of Scott's birthday celebration in 1911.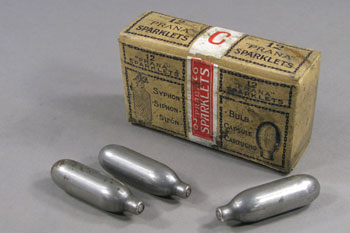 The sparkling water would have been used as a mixer for spirits, and this seems very apt in the week when a whisky crate excavated this summer from under the floor boards of Shackleton's 1908 hut at Cape Royds was put on display at Canterbury Museum in Christchurch. The crate was kept frozen while it was flown from Antarctica to New Zealand, then immediately placed in a freezer, and it's now slowly being thawed so that conservators can open it up and examine the contents.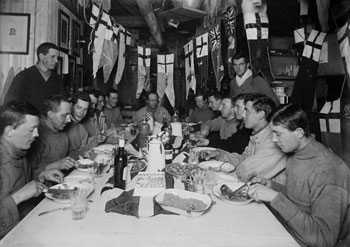 We were very lucky to see the crates at Cape Royds when we first arrived in February, and have recently been following progress at Canterbury Museum through the blog on their website which is updated every day.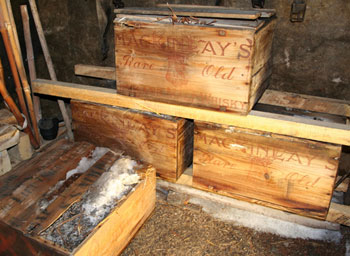 Today we've learnt that the ice has sufficiently melted for Lizzie and Sasha to remove the lid and for the first time the top of a bottle in its straw wrapper can be seen. I can't wait to see what the bottles look like, and if there is still some whisky inside.
The ever-present Mount Erebus
Nicola, Friday, July 30th, 2010
Temperature: -25°C
Wind speed: 10 knots
Temp with wind chill: -40°C
Moonrise: above horizon
Moonset: above horizon
Where ever you are on Ross Island you are always aware of the active volcano Mount Erebus sitting on the skyline topped by a plume of smoke. Erebus, and Mount Terror, the extinct volcano next to it, were named after the ships of Captain James Clark Ross, the first explorer to sail into McMurdo Sound in 1841.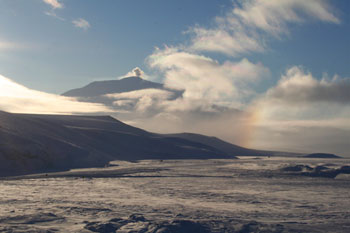 From Scott Base Erebus looks serene, as if you could stroll up to the summit in an afternoon, but it's actually 20 miles away and its slopes covered with crevasses and hazardous ice fields. Men from Shackleton's 1907-09 expedition were the first to climb Erebus in 1908, taking 5 days. Now the crater is reached during the summer season by helicopter, which takes scientists up to carry out research on volcanic activity, the lava lake and the toxic fumes - carbon dioxide, chlorine and sulphur dioxide that it pumps out.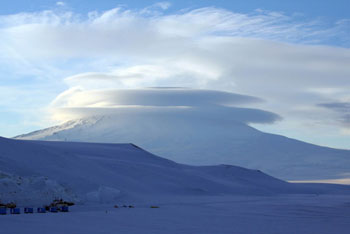 Erebus is constantly changing, reflecting the weather and seasons. As the sun disappeared we saw it silhouetted against a sky turning from blue to pink to rich red and finally filled with stars and auroras. But over the last week the sky behind Erebus has gradually been lightening and a faint apricot glow now indicates that with Midwinter over we are heading back towards the first sun-rise on 19th August.
Gone fishin'
Mindy, Monday, July 26th, 2010
Temperature: -20°C
Wind speed: 5 knots
Temp with wind chill: approximately -25°C
Moonrise: above horizon
Moonset: above horizon
After a week of record-breaking cold temperatures, it's hard to believe that the members of Captain Scott's (1910-1913) expedition would be out fishing in the middle of an Antarctic winter. But, every copy of a British Antarctic Expedition (B.A.E.) journal in the library at Scott Base (New Zealand's Antarctic base) suggests this is what they were doing. It interested Dr. Edward Atkinson in particular, as he was the scientist charged with studying parasites and bacteria. While occasionally they did eat the fish, they mostly wanted to advance polar scientific study (and I get the impression the fish didn't taste that good anyway!).
What is puzzling is how they actually caught the fish. The only hints I've found indicate they used a trap made of wire netting. Well, I have no trap here in the lab, but I do have a tin of fish hooks. Hundreds and hundreds of fish hooks – and not one journal reference! Oh well…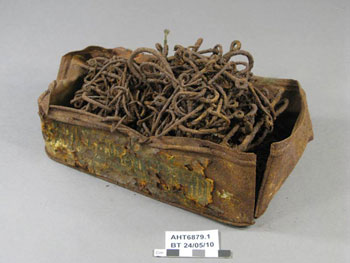 Regardless, it was very satisfying to treat the artefact by separating the hooks from their semi-concreted mass. As a bonus, this lead to the discovery of a rather cool little lure hidden in its centre. And, in treating the tin of fish hooks we did learn a bit about the early explorers' choice of 'sweeties'. In the long tradition of Antarctic thriftiness, they used a 'Rowntree's Clear Gums' tin to keep the hooks in!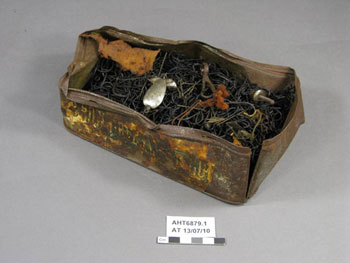 Ponting's plates
George, Thursday, July 22nd, 2010
Temperature: -23.3°C
Wind speed: 10 knots
Temp with wind chill: approximately -33°C
Moonrise: none
Moonset: none
Herbert Ponting, the official photographer for Scott's Terra Nova expedition, preferred working with glass plate negatives for their superior image quality – even though photographic film had been in popular use for at least 20 years. The glass plate negatives we are conserving from the darkroom are of different types, and from different companies around the world such as London, France, Sydney and Wellington. Nearly half are by the 'Paget Prize Plate Company' which was based in Watford, UK, and happens to be my home town! The company was only in existence for a short time so these packages are very rare indeed!
The vast majority of Ponting's surviving works are in black and white, but the collection shows that he clearly wanted to experiment with colour. There are over 30 packages of colour plates but it seems this process proved too technically challenging for the environment with only a few colour photos ever being published. The processed plates returned to England with Ponting, so the remaining packages and boxes in the hut are unopened – perhaps abandoned as the most unworkable.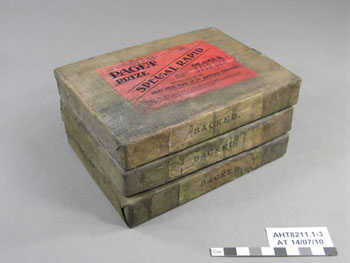 Water damage over the years has left these plates in poor condition. Even for Ponting spoilage was a persistent problem. In his biography he describes how he had so many plates he had to store them outside in the snow and then carefully bring them into the hut when needed. This was done gradually as the change in humidity and temperature could damage the sensitive gelatine coating.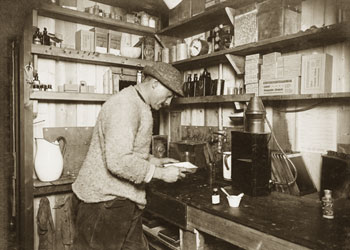 Ponting's darkroom has been relatively untouched over the years and so provides an intriguing time capsule (or should that be snapshot!) into the working processes of this early Antarctic 'camera artist'.
In partnership with
Blog search