West front view of Nutwood Cottage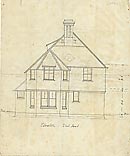 Catalogue number: WP4/2/1
Architectural drawing of the west front of Wallace's house, Nutwood Cottage at Godalming in Surrey, undated, circa 1880.
This architectural drawing is in black ink on waxed linen. Wallace bought the land on which to build the house at Firth Hill, Godalming. The plan shows three floors. The first floor is eight foot high (almost 2.5 m), and the second floor slightly greater. An attic room window is visible at the side.
Wallace stayed here at Nutwood Cottage with his wife Annie from 1881 until 1889, during which time he became involved with social reform, specifically the Land Nationalisation Society.
Search this collection
Toolbox
Wallace Letters Online
View high resolution scans and transcripts of Alfred Russel Wallace's correspondence, including all surviving letters between him and Charles Darwin.