You are here:
Wallace's death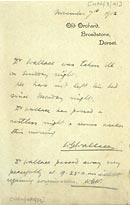 Catalogue number: WP2/3/41
Note signed by William Greenell Wallace, announcing the death of his father (Alfred Russel Wallace), dated November 1913.

Image showing an extract from this item
This short note signifies the end of an era. Wallace's son William simply announces that his father was 'taken ill on Sunday night'. By Friday, the great naturalist was dead: 'Dr Wallace passed away very peacefully at 9.25am without regaining consciousness'. He was 90 years old.
Search this collection
Toolbox
Wallace Letters Online
View high resolution scans and transcripts of Alfred Russel Wallace's correspondence, including all surviving letters between him and Charles Darwin.