You are here:
Birthday congratulations and admiration for socialism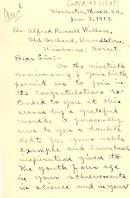 Catalogue number: WP1/8/53(1)
Letter from anthropologist Albert Gilbertson to Wallace sending 90th birthday congratulations and praise for his work as a scientist and a socialist, dated January 1913.
Image showing an extract from this item
This birthday greeting arrived from Clark University, Massachusetts, USA. Anthropologist Albert N Gilbertson wrote that he was inspired by Wallace's scientific achievements and 'services to mankind' through Wallace's 'advocacy of the cause of socialism'. Gilbertson expressed 'most heartfelt wishes for many years of life and health' on behalf of his faculty and students, and hoped Wallace would continue his services 'to truth and humanity'.
Wallace received many letters and telegrams on his 90th birthday, illustrating the respect and admiration he gained from around the world.
Search this collection
Toolbox
Wallace Letters Online
View high resolution scans and transcripts of Alfred Russel Wallace's correspondence, including all surviving letters between him and Charles Darwin.