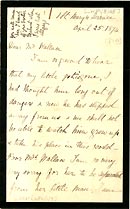 Catalogue number: WP1/8/48
Letter from Arabella Buckley to Wallace sending condolences at the death of his son Bertie and enclosing details of a séance where she tried to contact Bertie's spirit, dated April 1874.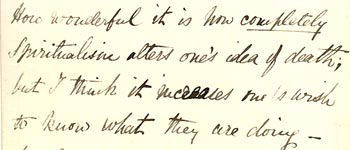 Image showing an extract from this item
Wallace's first son Bertie (Herbert Spencer Wallace) died at the age of seven, after a long illness. Wallace, devoted to his family, was left completely devastated. He was a very private person, which makes this touching letter from Arabella Buckley extremely interesting.
The notepaper has a black border, the traditional 'mourning paper' of the time. A good friend, fellow spiritualist and scientist, Arabella was able to share his grief and provide much needed support. 'I am so grieved to hear that my little pet is gone, I had thought him long out of danger and now he has slipped away from us...' Arabella provided words of comfort: 'How wonderful it is how completely spiritualism alters one's idea of death; but I think it increases one's wish to know what they are doing...I wonder who will take care of him [Bertie] and educate him for you.' The belief that death was not the end of existence consoled Wallace.
Arabella suggested mediums who might try to contact Bertie. There is a lengthy addition to the letter where she recorded her own attempts to contact Bertie's spirit. However, she was doubtful whether she had the abilities of a medium. 'I wish I could get rid of this feeling that it [the communication] may be partly my own imagination.' Nevertheless, Arabella tried twice more. She provided details of the séance for Wallace. The spirits said, 'We want to tell you that Bertie Wallace is here, he is fast asleep and his uncle Herbert watches over him'. Wallace's brother Herbert died in Brazil 23 years earlier. Still unsure, she asks the spirits 'Is any of this my own imagination?' The reply: 'No, it is not your own at all'. Both Arabella and Wallace were convinced.
Wallace was interested in spiritualism, as were many Victorians, before Bertie's death, but this event reinforced his beliefs.