You are here:
Birthday congratulations and general admiration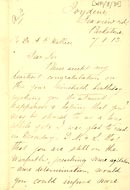 Catalogue number: WP1/8/30
Letter from Arthur Button, a member of the public, to Wallace sending 90th birthday congratulations and praise for his work on a variety of subjects, dated January 1913.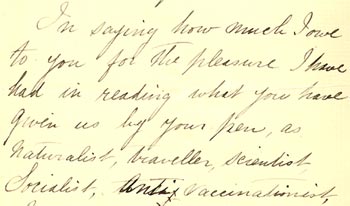 Image showing an extract from this item
This birthday greeting is from Arthur Button, an admirer of Wallace. He refers to a recent article on socialism written by Wallace and comments that he is 'glad to hear that you [Wallace] are still on the warpath, preaching more agitation - more determination...'
Button applauds Wallace saying he owes him much for the pleasure he gained reading Wallace's work 'as naturalist, traveller, scientist, socialist, [and] anti-vaccinationist...' This praise is genuine and gives us a feel both for Wallace's popularity and his interest in a range of topics.
Search this collection
Toolbox
Wallace Letters Online
View high resolution scans and transcripts of Alfred Russel Wallace's correspondence, including all surviving letters between him and Charles Darwin.