You are here:
Birthday congratulations and disagreement on socialism
Catalogue number: WP1/8/28
Letter from H A Bulley, a member of the public, to Wallace sending 90th birthday congratulations and disagreeing at length with Wallace on socialism, dated January 1913.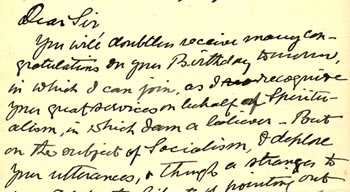 Image showing an extract from this item
Wallace received many 90th birthday greetings. In this letter, a Mr Bulley from Brighton congratulates Wallace for his services to spiritualism. He goes on to comment on an article Wallace wrote in the Daily News. 'On the subject of socialism, I deplore your utterances, and though a stranger to you I take the liberty of pointing out certain mistakes in your article.'
This borders on rudeness - it was Wallace's birthday after all! Bulley rants, 'the aims of the socialist seem wholly material, so it is surprising that a spiritualist can be also a socialist'.
Even at 90 years old, Wallace wrote articles and was ready for debate, as he was passionate about his beliefs. Such a letter probably would not have bothered him. Whether he chose to reply remains unknown.
Search this collection
Toolbox
Wallace Letters Online
View high resolution scans and transcripts of Alfred Russel Wallace's correspondence, including all surviving letters between him and Charles Darwin.