You are here:
Payment to Wallace by the British Museum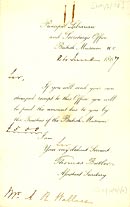 Catalogue number: WP1/3/78
Letter from Thomas Butler, of the British Museum, to Wallace stating that Wallace will be paid £5, dated June 1867.
Image showing an extract from this item
Wallace received this letter from Thomas Butler, the Assistant Secretary of the British Museum. Butler requests a receipt from Wallace so he can be paid the sum of £5. As a professional collector, Wallace sold parts of his insect and bird collection to the British Museum in order to raise funds. In this case, the item was an animal skeleton. Wallace did not even get paid the full £5 [see WP1/3/79]. Writing and lecturing provided Wallace with an additional wage, though he never managed to find permanent employment.
Search this collection
Toolbox
Wallace Letters Online
View high resolution scans and transcripts of Alfred Russel Wallace's correspondence, including all surviving letters between him and Charles Darwin.