You are here:
Wallace on wild flowers in Java and England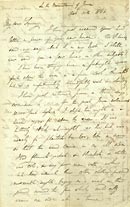 Catalogue number: WP1/3/51
Letter from Wallace to his sister Fanny describing an excursion to a volcano in Java and comparing the wild flowers of Java and England, dated October 1861.

Image showing an extract from this item
Wallace writes to his sister Fanny from 'the mountains of Java'. He tells her about an excursion to a volcano '10,000 feet above the sea', where it was very cold. Plants at the top were 'very like English ones such as buttercups, cow-thistle, plantain...and many more'.
Wallace expresses his love for the plants back home and compares them to those of the tropics. 'I consider and will always maintain that our own meadows and woods and mountains are more beautiful...far prettier and more varied than those of the tropics.' Perhaps he is a little homesick? Wallace becomes unusually poetic: 'A field of buttercups, a hill of gorse, or of heath, a bank of foxgloves and a hedge of wild roses and purple vetches surpass in beauty anything I have ever seen in the tropics.'
Although Wallace loved his work and the solitude, after more than seven years' travelling he seems to be longing for England. He returned home in April 1862.
Search this collection
Toolbox
Wallace Letters Online
View high resolution scans and transcripts of Alfred Russel Wallace's correspondence, including all surviving letters between him and Charles Darwin.