You are here:
Wallace's advice to Bates on writing a book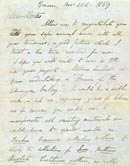 Catalogue number: WP1/3/47
Letter from Wallace to entomologist friend Henry Walter Bates congratulating him on his return home from the Amazon, discussing writing books and exchanging specimens, dated November 1859.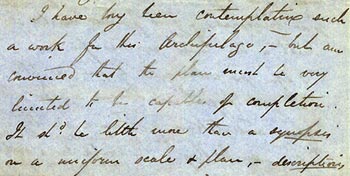 Image showing an extract from this item
Wallace congratulates his entomologist friend Henry Walter Bates on his safe return to England after 11 years in the Amazon. He enquires about Bates' intention to write a book on the insects of the Amazon Valley, and gives advice about how to prepare it. Wallace admits he too has been thinking about writing a book on the fauna of the Malay Archipelago. 'It should be little more than a synopsis...but with copious introductions and remarks on families and genera.'
Wallace eventually wrote a description of his work and experiences in the book The Malay Archipelago. Bates wrote numerous books and articles including Contributions to an Insect Fauna of the Amazon Valley: Lepidoptera: Heliconidae in 1862.
Search this collection
Toolbox
Wallace Letters Online
View high resolution scans and transcripts of Alfred Russel Wallace's correspondence, including all surviving letters between him and Charles Darwin.