You are here:
Collecting in Borneo and the departure of his assistant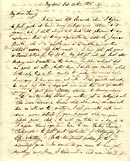 Catalogue number: WP1/3/37
Letter from Wallace to his sister Fanny about his assistant leaving and successful collecting in Borneo, dated February 1856.

Image showing an extract from this item
Wallace wrote to his sister on his return to Singapore, following a collecting trip to Borneo. He describes his foot infection and his pleasant stay with Sir James Brooke in Sarawak. Sir James Brooke was the Rajah of Sarawak, who worked hard to protect the indigenous people against exploitation. Wallace says he was 'a gentleman and a nobleman'.
He tells Fanny that his assistant Charles Allen had left him, staying in Borneo to teach with the Bishop of Sarawak. Wallace had mixed feelings, despite extensive complaints about Charles in previous letters. 'I hardly know whether to be glad or sorry he has left', he admits. 'I feel it quite a relief without him he had just begun to be valuable in collecting.' Perhaps Wallace grew to like Charles after all, despite his faults.
Wallace remarks that collecting in Borneo was very good. He collected 'upwards of 25,000 insects', in addition to birds, mammals and plants. This is an amazing amount. He was probably the most prolific collectors of his time. Wallace kept some specimens for his own private collection and relied on selling the rest to pay for his voyages.
Search this collection
Toolbox
Wallace Letters Online
View high resolution scans and transcripts of Alfred Russel Wallace's correspondence, including all surviving letters between him and Charles Darwin.