Collecting insects in Malacca and Mount Ophir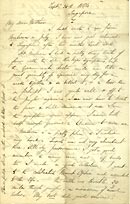 Catalogue number: WP1/3/32
Letter from Wallace to his mother describing a treatment for fever, collecting insects and birds, meeting Sir James Brooke and problems with his field assistant, dated September 1854.

Image showing an extract from this item
Wallace updates his mother on his travels. After collecting for two months in Malacca (Malaysia), he returned to Singapore. Wallace describes a remedy for a 'pretty strong touch of the fever'. By this he means malaria. He was told that while in South America he had taken only half the required dose of quinine needed to cure his symptoms. It was during an attack of malaria that Wallace came up with the concept of natural selection as a mechanism for evolution. He suffered bouts of malaria throughout his life, but despite his exposure to tropical diseases, Wallace lived to be 90 years old.
In the rest of the letter Wallace describes his success collecting birds and insects and an expedition to 'the celebrated Mount Ophir'. When back in Singapore, Wallace met Sir James Brooke, ruler of Sarawak, who offered him assistance if he ever travelled to Sarawak (Borneo).
Wallace's main complaint was about his assistant, Charles Allen. He summarises his feelings at the very end of the letter. 'If it were not for the expense I would send Charles home; I think I could not have chanced upon a more utterly careless boy. After 5 months I have still to tell him to put things away after he has been using them...' Wallace had high standards and expected others to meet them. Obviously poor Charles was not cut out for some of the fieldwork.
Search this collection
Toolbox
Wallace Letters Online
View high resolution scans and transcripts of Alfred Russel Wallace's correspondence, including all surviving letters between him and Charles Darwin.