Collecting insects in Singapore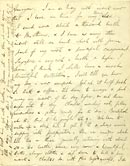 Catalogue number: WP1/3/29
Letter from Wallace to his mother about sending beetles to his agent Mr Stevens, future travel plans and his daily routine as a collector, dated May 1854.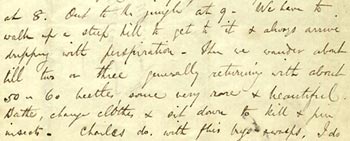 Image showing an extract from this item
Wallace describes his progress collecting in Singapore to his mother. He comments on the missionary with whom he stayed and the excellent opportunities for collecting. 'I am so busy with insects now that I have no time for anything else' he enthuses. Wallace planned to send Mr Stevens, his London agent, 'about a thousand beetles'. The money raised from selling part of this collection would be used to pay for his expeditions.
Wallace goes on to give an interesting taster of what it was like to be a collector in the tropics. A typical day was as follows:
'Get up at half past 5. Bath and coffee. Sit down to arrange and put away my insects of the day before...Breakfast at 8. Out to the jungle at 9.' A steep hill and hot climate meant he and his young assistant Charles would be 'dripping with perspiration'. They worked until two or three, 'generally returning with about 50-60 beetles, some very rare and beautiful. Bathe, change clothes and sit down to kill and pin insects...Dinner at 4. Then work again till six.' After more coffee, they might work until nine and then go to bed. What an exhausting day!
Wallace was not impressed with Charles. He admits to giving him wasps to pin as he did not trust him with his delicate beetles!
Search this collection
Toolbox
Wallace Letters Online
View high resolution scans and transcripts of Alfred Russel Wallace's correspondence, including all surviving letters between him and Charles Darwin.