You are here:
The start of Wallace's Malay Archipelago expedition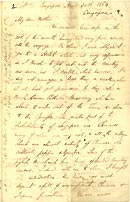 Catalogue number: WP1/3/28
Letter from Wallace to his mother describing the people and wildlife of Singapore, staying with a missionary and the progress of his assistant Charles, dated April 1854.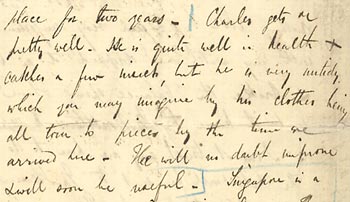 Image showing an extract from this item
Wallace wrote this letter to his mother a few days after arriving in Singapore. This was the start of his expedition around the Malay Archipelago.
Wallace described the variety of people living in Singapore, and his stay with a missionary who was 'a very pleasant man'. Wallace had barely started collecting insects but said they were plentiful in the area. As for other wildlife, he says 'I have not seen any tigers yet and do not expect to, for there are not many in this neighbourhood...'
Wallace also comments on his new assistant Charles Allen. 'He is quite well in health and catches a few insects, but he is very untidy which you may imagine by his clothes being all torn to pieces by the time we arrived here.' Wallace expected Charles to improve but he did not. Wallace did not suffer fools gladly. He was a polite and caring man, but expected high standards to equal his own.
Search this collection
Toolbox
Wallace Letters Online
View high resolution scans and transcripts of Alfred Russel Wallace's correspondence, including all surviving letters between him and Charles Darwin.