News of Edward Wallace's death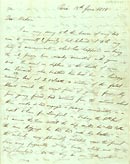 Catalogue number: WP1/3/22
Letter from Henry Walter Bates to Wallace's mother informing her that her son Edward had died in Pará, Brazil dated June 1851.
Image showing an extract from this item
Wallace's friend Henry Walter Bates writes to Wallace's mother with sad news. Wallace's brother Edward (Herbert Edward Wallace, here referred to as Edward) contracted yellow fever and died while in Brazil.
Bates provides details of the last few days of Edward's illness. They saw a doctor 'thinking his disease was merely constipation...but the doctor treated him for the yellow fever and he was progressing very well'. Sadly, his illness worsened the next day. 'The fever immediately struck inwards and black vomit declared itself...he died...after suffering fearfully.' This was not a very comforting account for Edward's poor mother to read.
Edward had joined his brother Alfred in Brazil two years earlier to help him collect insects. Eventually Edward decided that an explorer's life was not for him and planned to return home. Alfred had given him some money and then left Edward to continue his expedition along the Amazon. Edward died a few days before his ship was to set sail for England. Parà was in the grip of an epidemic at the time. Bates recalls '...I was rather alarmed by being suddenly seized with similar symptoms myself, shivering fever and vomit in rapid succession...' Bates was lucky to recover.
Search this collection
Toolbox
Wallace Letters Online
View high resolution scans and transcripts of Alfred Russel Wallace's correspondence, including all surviving letters between him and Charles Darwin.