You are here:
Designing an insect cabinet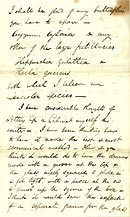 Catalogue number: WP1/3/15
Letter from Wallace to Henry Walter Bates exchanging insect lists and considering a design for an insect display cabinet, dated October 1845.

Image showing an extract from this item
Wallace sends his entomologist friend Bates a list of insect specimens he is posting and asks for some exchanges. He writes, 'I shall be much obliged to you for any of the following of which you can send me good specimens'. Wallace then lists 10 species of the order Coleoptera (beetles).
He goes on to describe his plans for a cabinet for his insect collection. 'How do you think it would do to have the drawers made with a groove at the top and the glass nicely squashed to slide in and fit tight, with a piece at the end to finish up the square of the box'. He suggests the need for a space at the side 'for camphor - that is very necessary'. Camphor crystals was used as an insect repellent to stop specimens from being destroyed. Wallace used his skills as a draughtsman to design his own cabinet to meet his typically high standards.
Search this collection
Toolbox
Wallace Letters Online
View high resolution scans and transcripts of Alfred Russel Wallace's correspondence, including all surviving letters between him and Charles Darwin.