You are here:
Exchanging insect lists with Bates and keeping a journal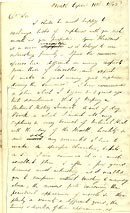 Catalogue number: WP1/3/11
Letter from Wallace to fellow entomologist Henry Walter Bates about exchanging insect lists, plans for keeping a journal, and natural history books, dated April 1846.

Image showing an extract from this item
Wallace and Bates first met in 1844, at a Leicester library, while Wallace was a teacher at the Collegiate School. Bates introduced Wallace to the world of entomology (studying insects). Here Wallace confirms that he 'would be most happy to exchange lists' with Bates, who lived in Leicester, each month. He describes his own collection of insects in Neath, Wales. Wallace noticed that the common species in Neath are 'different in many respects from those in Leicester'.
Wallace also tells Bates of his plan to start a journal of insects collected, '...a Natural History Journal. A sort of day book in which I insert all my captures...with the day of the month, locality etc and any remarks on specific characteristics, habits etc.' This is a wonderful insight into the beginning of Wallace's career as a naturalist. Many of the scientists at the Natural History Museum today keep journals to help them remember all the details about their collections.
Search this collection
Toolbox
Wallace Letters Online
View high resolution scans and transcripts of Alfred Russel Wallace's correspondence, including all surviving letters between him and Charles Darwin.