You are here:
Response to Wallace's lecture on colours of animals

Catalogue number: WP1/5/22(1)
Press cutting reporting on a Cincinnati lecture on animal colours undated, but probably April 1887.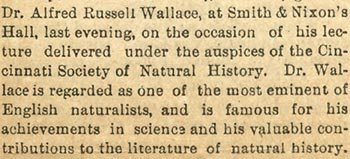 Image showing an extract from this item
This cutting (from an unnamed newspaper) reports on Wallace's lecture for the Cincinnati Natural History Society, USA, on Colours and Their Uses in Animals. It gives us a good idea of both Wallace's fame and his lecturing style. 'Dr. Wallace is regarded as one of the most eminent of English naturalists and is famous for his achievements in science and his valuable contributions to the literature of natural history'.
Wallace was uncomfortable in the public eye, yet it seems he was a charming guest lecturer. 'Dr. Wallace is a large, fine-looking elderly gentleman, with a long beard that gives him something of a patriarchal look, but his manner on the rostrum is so unostentatious that his lecture almost carried with it the effect of pleasant and instructive conversation among a party of friends.'
Search this collection
Toolbox
Wallace Letters Online
View high resolution scans and transcripts of Alfred Russel Wallace's correspondence, including all surviving letters between him and Charles Darwin.