You are here:
Wallace's trip to Niagara Falls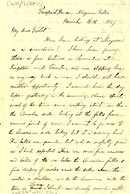 Catalogue number: WP1/5/20(1)
Letter from Wallace to his daughter Violet describing an excursion to Niagara Falls, dated March 1887.
Image showing an extract from this item
This entire letter is devoted to describing Niagara Falls. It demonstrates Wallace's deep love of nature. Wallace comments from the Canadian side of the falls and then from the American side. He provides a sketch of the area and shows the location of his hotel.
Wallace favours the view from the American side. 'It is much more picturesque and beautiful there,' he states, 'as the islands are all wild and natural woodland, there are paths and balconies by which you can get close to the edge of the falls...' He describes the rapids, the clouds of spray and even the variety of mosses present.
Wallace's favourite feature is Luna Island, 'where the spray from the falls freezes on the trees and coats every branch and twig with pure white ice till they look like some wonderful fantastic corals'. He elaborates poetically that '...to stand away there and look through them is like a scene in fairy-land'. This shows Wallace as a man with immense passion for the natural world. Such enthusiasm must have been infectious.
Search this collection
Toolbox
Wallace Letters Online
View high resolution scans and transcripts of Alfred Russel Wallace's correspondence, including all surviving letters between him and Charles Darwin.