A trip up the Hudson River
Catalogue number: WP1/5/3
Letter from Wallace to his daughter Violet describing an excursion up the Hudson River in America, his lecture plans, and the hotel food, dated November 1886.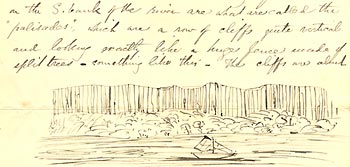 Image showing an extract from this item
Wallace writes to Violet from the Quincy Hotel in Boston. He enthuses about the beautiful surroundings on a trip up the Hudson River. He travelled to West Point and saw the Military College set among the mountains. He sketches and describes the 'palisades' formed of 'basaltic columns like those of the Giant's Causeway in Ireland'.

Image showing an extract from this item
Wallace was invited to give a series of lectures at the Lowell Institute, Massachusetts. He then continued a tour of America and Canada, keen to see the tourist attractions. Wallace lectured on Darwinism and later on spiritualism. We see here that food played an important role in Wallace's life as he lists the delights offered by his hotel. At dinner there were '...2 kinds of soup, 2 of fish, about 30 different dishes of meat, poultry and game, a dozen sorts of pastry, a dozen of vegetables, besides ices and fruit. You can have as many dishes as you like...' It sounds delicious!
Search this collection
Toolbox
Wallace Letters Online
View high resolution scans and transcripts of Alfred Russel Wallace's correspondence, including all surviving letters between him and Charles Darwin.