Herbert Wallace collecting in Brazil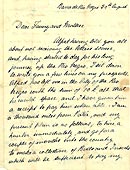 Catalogue number: WP1/3/77
Letter from Herbert Edward Wallace (Wallace's brother) to his mother and sister Fanny about collecting animals to pay his debts and plans for returning home, dated August, probably 1850.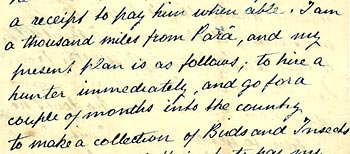 Image showing an extract from this item
Wallace's younger brother Herbert (sometimes referred to as Edward) writes to his mother and sister Fanny, from Barra do Rio Negro in Brazil. He travelled to the Amazon in 1849 to help Wallace collect birds and insects. After two years Herbert decided to give up life as a naturalist.
He writes that Alfred left him in the city with £10, which he will pay back. 'My present plan is as follows,' Herbert begins, 'to hire a hunter immediately, and go for a couple of months into the country to make a collection of birds and insects which will be sufficient to pay my voyage to England...'
Herbert ends the letter with a postscript 'you may expect me home at Christmas'. Tragically, Herbert never saw England again. He contracted yellow fever and died in Pará a few days before his ship was to sail home.
Search this collection
Toolbox
Wallace Letters Online
View high resolution scans and transcripts of Alfred Russel Wallace's correspondence, including all surviving letters between him and Charles Darwin.