Advice to Violet on writing articles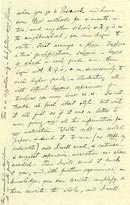 Catalogue number: WP1/2/114
Letter from Wallace to his daughter Violet giving advice on writing magazine articles on German schools and suggesting sights to see in Dresden, dated September 1898.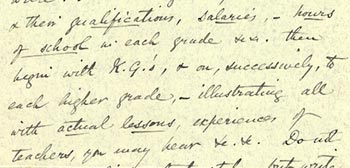 Image showing an extract from this item
Here we gain an insight into how Wallace writes articles, through his advice to Violet. He strongly suggests that she prepares notes so that she can publish articles on German schools and teaching methods. Violet spent a year away from her job as a primary school teacher to learn the language in Germany and to study the education system.
Wallace was keen for Violet to use her experience productively and gave her the following advice: 'First arrange a plan. Teachers and their qualifications, salaries, hours of school in each grade etc etc...write it all, just as if it was a letter to me, giving me all this information for my instruction...I will read, and criticise etc'.
Though well-meaning, he is rather overbearing in his instructions. As if realising this, he squeezes in a last sentence, writing 'this is a suggestion only - but follow some plan'.
Search this collection
Toolbox
Wallace Letters Online
View high resolution scans and transcripts of Alfred Russel Wallace's correspondence, including all surviving letters between him and Charles Darwin.