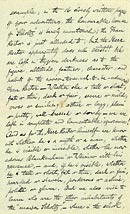 Catalogue number: WP1/2/111
Letter from Wallace to his daughter Violet quizzing her about her hosts in Germany and commenting on the recent Vaccination Bill, dated August 1898.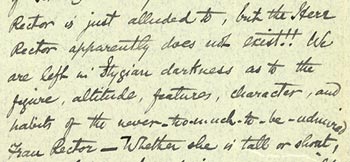 Image showing an extract from this item
Wallace asks Violet about her stay in Germany. He seems unsatisfied with previous descriptions, particularly of her hosts Herr and Frau Rector. Details are very important to Wallace, whether about his family or natural history. For example, Wallace asks whether Frau Rector is 'tall or short, fat or thin, dark or fair, severe or mild, cross or smiling, active or lazy, plain or pretty, well-dressed or dowdy...' He lightens the tone with a little humour, suggesting, in a dramatic manner, that he has been 'left in complete and lamentable ignorance!'
He also asks about food. 'A programme of meals would be interesting. Is there anything eatable to eat, and drinkable to drink. Is unlimited beer included...'
Violet had taken time away from her teaching job, at Wallace's suggestion, to stay in Germany and learn the language. His questioning is rather intense, but probably so he could share the experience with his beloved daughter.

Image showing an extract from this item
Wallace informs Violet that 'the vaccination bill has been finally accepted by the House of Lords, with the conscience-clause'. This hints at Wallace's involvement with the anti-vaccination movement. In an attempt to control smallpox, vaccination had been made compulsory, but there were still epidemics, and some vaccinated people died. Their deaths were probably due to poor hygiene and crude medical methods, yet opponents thought the vaccine itself was dangerous. The anti-vaccination movement aimed to make vaccination optional. The 'conscience-clause' Wallace mentions here allowed parents to choose whether to get their children vaccinated.
In 1890, Wallace gave a presentation to the Royal Commission opposing compulsory vaccination. He used statistical analysis to support his argument. This was a groundbreaking way to review data, but was not understood by the doctors on the board. When the Commission finally published its figures relating to vaccination, Wallace used statistics again to write the pamphlet Vaccination a Delusion: its Penal Enforcement a Crime, Proved by the Official Evidence in the Reports of the Royal Commission. This was distributed to members of the House of Commons ready for the discussion of the Vaccination Act. It seems to have worked to influence government policy as the 'conscience-clause' was introduced.