You are here:
The Wonderful Century chapter headings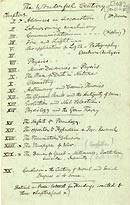 Catalogue number: WP1/2/108
List of draft chapter headings for Wallace's book The Wonderful Century, probably February 1898.

Image showing an extract from this item
This is a handwritten draft of chapter headings for Wallace's book The Wonderful Century. It was possibly enclosed with a letter to his daughter Violet. The variety of topics reflects Wallace's many interests. Scientific topics include evolution, physics, astronomy and the glacial period.
A line under chapter 14 separates the successes from what Wallace thinks are failures. Topics such as The Neglect of Phrenology and The Opposition to Hypnotism and Psychic Research show that Wallace had some unconventional ideas that he pursued despite criticism. He changed the wording of some headings before the book was published. He inserted a new chapter to sum up the achievements in the Successes section, called Estimate of Achievements: The Nineteenth Compared with Earlier Centuries.
Search this collection
Toolbox
Wallace Letters Online
View high resolution scans and transcripts of Alfred Russel Wallace's correspondence, including all surviving letters between him and Charles Darwin.