Wallace's financial difficulties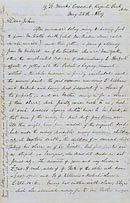 Catalogue number: WP1/3/59
Letter from Wallace to his brother John in California, giving financial details about their mother's will and family legacy, dated May 1869.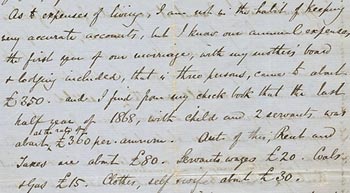 Image showing an extract from this item
Wallace writes to inform his brother John about the complicated financial situation following the death of their mother. He was frustrated that the wording of her will resulted in the family paying legal fees 'four times over'. Wallace and his brother each received about £740.
Wallace gives an interesting account of his living expenses. For six months he calculates rent at £80, servants' wages £20, coal and gas £15, and clothes ('self and wife') £30. Wallace estimates he could live for £50-£100 less in the country 'with a garden and a cow'!
His finances were a burden, 'having lost a good deal by bad investments', and Wallace admitted to living beyond his income. At least £700 of his losses were through investing in his sister Fanny and her husband Thomas Sims' badly managed photography business. Wallace hoped his book, The Malay Archipelago, would earn him 'a few hundred pounds'.
Search this collection
Toolbox
Wallace Letters Online
View high resolution scans and transcripts of Alfred Russel Wallace's correspondence, including all surviving letters between him and Charles Darwin.