You are here:
Attending the Cambridge University Natural Science Club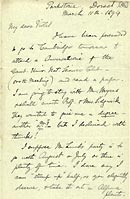 Catalogue number: WP1/2/46
Letter from Wallace to his daughter Violet about his meeting at the Cambridge University Natural Science Club, Violet's job and a disappointing lecture he attended dated March 1894.
Image showing an extract from this item
This letter was written the day before Wallace attended the 500th meeting of the Cambridge University Natural Science Club. He says he had been 'persuaded to go to Cambridge...and read a paper'. His unwillingness is probably because he gave up formal lecturing in 1890. However, he did attend, and read his paper What Are Zoological Regions? This was then printed in the journal Nature (49: 610-613).
The paper outlines the debate for ways of splitting up the Earth into zoological regions. Wallace maintains that the reason for doing so is to aid the study of the geographical distribution of animals and its implications for their evolution.
Wallace demonstrates his dislike for public ceremony in his typical humorous and modest way when he tells Violet that the club 'wanted to give me a degree - another "Dr" - but I declined with thanks!'
Search this collection
Toolbox
Wallace Letters Online
View high resolution scans and transcripts of Alfred Russel Wallace's correspondence, including all surviving letters between him and Charles Darwin.