Wallace encourages Violet's social views and plans for Christmas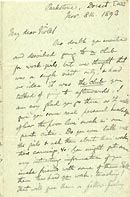 Catalogue number: WP1/2/42
Letter from Wallace to his daughter Violet asking about her visit to a 'club for work-girls' and discussing plans for Christmas presents, dated November 1893.
Image showing an extract from this item
Violet had made a visit to a 'club for work-girls'. Her father asks her what she talked about with the girls and is pleased that she has visited. 'It will give you some real personal knowledge of how the poor live and work...' he writes. The poorest girls in the city were forced to work in dangerous, badly paid jobs. Violet was a primary school teacher in Liverpool at this time and had as keen an interest in social issues as her father.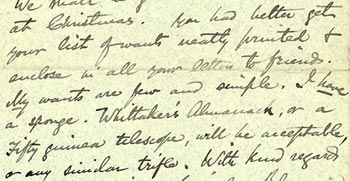 Image showing an extract from this item
It is interesting to see that Wallace and his family wrote Christmas lists. Wallace suggests to Violet 'you had better get your list of wants neatly printed and enclose in all your letters to friends'. At the age of almost 70, Wallace was not fussy about his gifts and says he doesn't need a sponge as he already has one! 'Whittaker's [sic] Almanack or a fifty guinea telescope will be acceptable' he suggests. Wallace was a family man and enjoyed spending Christmas holidays with them.
Search this collection
Toolbox
Wallace Letters Online
View high resolution scans and transcripts of Alfred Russel Wallace's correspondence, including all surviving letters between him and Charles Darwin.