A local lecture and Wallace's radical social views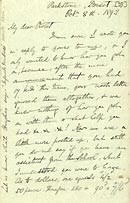 Catalogue number: WP1/2/39
Letter from Wallace to his daughter Violet describing a lecture on the colours of animals, his impending article in the Nineteenth Century journal, and asking about her teaching job, dated October 1893 .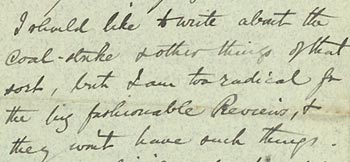 Image showing an extract from this item
Wallace complains to Violet that his article has not been printed in the Nineteenth Century journal yet. He confides that he 'should like to write about the coal-strike and such things' but is well aware that he is seen as 'too radical' for certain journals and magazines.
In addition to his work on natural selection, Wallace wrote broadly on a number of social issues. He was against militarism, vivisection, compulsory vaccination, capital punishment and strikes. He supported the nationalisation of the railways and women's suffrage (the right for women to vote in political elections). Despite his opponents, Wallace upheld his views throughout his life.
Image showing an extract from this item
Wallace describes how he was persuaded to present a local lecture to the Parkstone Institute. It is not surprising that he needed 'a great deal of asking from Mr Kelly' as Wallace retired from formal lecturing in 1890.
His presentation was on The Colours of Animals and he remarks that 'it all went off very well'. Wallace wrote the article The Colours of Animals in 1890, on which the lecture for Mr Kelly was based.
Search this collection
Toolbox
Wallace Letters Online
View high resolution scans and transcripts of Alfred Russel Wallace's correspondence, including all surviving letters between him and Charles Darwin.