You are here:
Wallace explains flower anatomy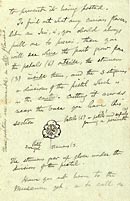 Catalogue number: WP1/2/32
Letter from Wallace to his daughter Violet with instructions on how to look at the anatomy of a flower and about the delay of books being sent, dated June 1893.
Image showing an extract from this item
Wallace describes how to dissect a flower. He sketches the parts of a flower and labels the main features (petals, stamens, stigma). Violet was a primary school teacher. The purpose of this lesson could have been for Violet then to teach it to her own students, or possibly it was just to develop their shared passion for botany. Ever the naturalist, Wallace shows a keen eye for detail.
Search this collection
Toolbox
Wallace Letters Online
View high resolution scans and transcripts of Alfred Russel Wallace's correspondence, including all surviving letters between him and Charles Darwin.