You are here:
Plans for the cover of The Wonderful Century book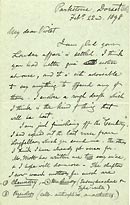 Catalogue number: WP1/2/105
Letter from Wallace to his daughter Violet about finishing his book The Wonderful Century and sending books through the post, dated February 1898.
Image showing an extract from this item
In this letter Wallace asks Violet if she knows 'anyone who can suggest a good emblematical design for the cover' of his new book The Wonderful Century. He requires 'something striking yet simple and intelligible'. You can see the results for the book cover used for publication here.
In The Wonderful Century Wallace gives his account of the most significant discoveries and failures of the nineteenth century. Wallace was the author of around 20 books and more than 700 journal articles.
Search this collection
Toolbox
Wallace Letters Online
View high resolution scans and transcripts of Alfred Russel Wallace's correspondence, including all surviving letters between him and Charles Darwin.