The Malay Archipelago book - map and dedication

Catalogue number: L-ARW-47
The Malay Archipelago dedication to Darwin and a map showing Wallace's journey, dated 1869.
Image showing an extract from this item
Wallace first published his science and travel book, The Malay Archipelago: the land of the Orang-utan, and the Bird of Paradise; A narrative of Travel, with Studies of Man and Nature, in 1869. He dedicated the book to Charles Darwin 'not only as a token of personal esteem and friendship but also to express my deep admiration for his genius and his works'. This really sums up Wallace's attitude towards Darwin. They corresponded for many years and shared comments on each other's work.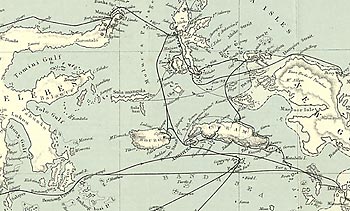 Image showing an extract from this item
The book itself was written six years after his return from the Malay Archipelago region (including Indonesia, Papua New Guinea, Malaysia). Wallace describes the book in the preface as 'an interesting and instructive sketch of the main results arrived at by the study of my collections'. He collected a total of 125,660 specimens, 83,200 of which were Coleoptera (beetles).
Wallace's 14,000-mile (22,530 km) journey around the region can be seen on the foldout map included in the book, entitled 'Southern Part of the Malay Archipelago shewing Mr. Wallace's routes'. Places where Wallace explored included Sumatra, Java, Borneo, Celebes, New Guinea and many smaller islands such as the group called the Molucca Islands, where Wallace famously spent time at Jilolo (Gilolo, now called Halmahera) and Ternate.
Search this collection
Toolbox
Wallace Letters Online
View high resolution scans and transcripts of Alfred Russel Wallace's correspondence, including all surviving letters between him and Charles Darwin.