Wallace has trouble with his cats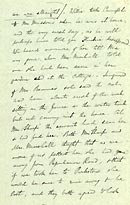 Catalogue number: WP1/2/2
Letter from Wallace to his daughter Violet describing moving house to Parkeston in Dorset, dated June 1889.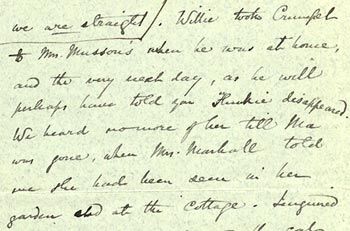 Image showing an extract from this item
Wallace describes moving the furniture and transplanting his garden plants. The move created a familiar problem for pet owners. The family owned two cats, Crumpet and Flunkie. During the move Flunkie went missing. Luckily the neighbours were able to find and look after the cats and help them get use to the idea of moving away. A neighbour had suggested that the cat ran away as Wallace did not pay it enough attention.
Wallace moved house many times. This time he let out Nutwood Cottage in Godalming, Surrey, and moved to Corfe View in Parkstone, Dorset. He stayed at Corfe View for the next 13 years.
Search this collection
Toolbox
Wallace Letters Online
View high resolution scans and transcripts of Alfred Russel Wallace's correspondence, including all surviving letters between him and Charles Darwin.