You are here:
List of expedition food supplies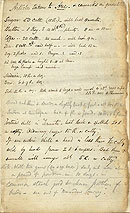 Catalogue number: Z/MSS89oWAL/1/p5
Notebook entry listing food supplies taken to Aru (New Guinea), undated, circa 1857.
Image showing an extract from this item
This is a page from Wallace's small field notebook used between 1855 and 1858, while on his Malay Archipelago expedition. The page is headed 'Articles taken to Aru - and remarks on quantities', followed by a short list of key supplies.
The units are mainly in 'catt.', which is an abbreviation of 'catty' - used in Southeast Asia and equivalent to roughly 600 grams. So '50 catt.' of sugar would be approximately 30 kilograms. Wallace calculated this would last eight months. Other supplies include butter, coffee, tea, soy, vinegar, oil, Madeira and beer. There is a note at the end of the page saying that common starch is good to clean the feathers of birds. A useful tip for the nineteenth century collector!
Search this collection
Toolbox
Wallace Letters Online
View high resolution scans and transcripts of Alfred Russel Wallace's correspondence, including all surviving letters between him and Charles Darwin.