You are here:
Descriptions of fishes from the Rio Negro - Ageneiosus species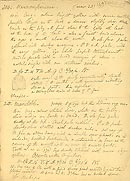 Catalogue number: Z88oWAL(2)/p69
Manuscript notes on the fish Ageneiosus militaris from the Rio Negro in South America, dated April 1852.
This page is from Wallace's field notebook in which he recorded measurements and descriptions of the fish he caught and sketched. This entry describes the sketch of the fish Ageneiosus militaris. It provides key details, since Wallace's sketches were not drawn in colour, and perfectly complements the sketch to give a detailed picture of the specimen.
At 16 inches long (approximately 40cm), this fish was 'whitish olive' in colour, with white on the belly and 'olive indigo' on the back and head. Wallace notes a distinctive feature: 'a bone at the corner of the mouth with a row of small hooks'.
Search this collection
Toolbox
Wallace Letters Online
View high resolution scans and transcripts of Alfred Russel Wallace's correspondence, including all surviving letters between him and Charles Darwin.