You are here:
List of Wallace's lectures in the USA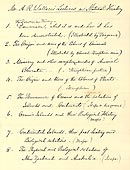 Catalogue number: WP9/1/1
Manuscript list by Wallace detailing his lectures on Natural History and how they were illustrated, undated, probably 1887.
This list was written by Wallace on the back of a piece of headed notepaper from The Hamilton Hotel, Washington, D.C. Wallace stayed at this hotel in 1887 while on a lecture tour of North America.
There are eight lectures on the list covering Wallace's areas of interest and expertise. The first is 'The Darwinian Theory-Darwinism, what it is and how it has been demonstrated'. Wallace noted that this lecture was 'illustrated by diagrams'. Other lectures in the list are based on the uses of colour in animals, mimicry, and island biology. A number of these lecture titles can be seen in the press cuttings of reviews of Wallace's lectures; for example, reports on a lecture about colours and their uses in animals.
Although sometimes considered as a shy individual, Wallace was passionate about nature and his research. He strived to make his work accessible to as many people as possible through books and lectures. This is demonstrated by the variety of illustration material he lists for each lecture - maps, diagrams and stereopticon pictures (similar to today's slide projector).
Search this collection
Toolbox
Wallace Letters Online
View high resolution scans and transcripts of Alfred Russel Wallace's correspondence, including all surviving letters between him and Charles Darwin.