You are here:
Wallace is awarded the Order of Merit medal
Catalogue number: WP1/1/200
Letter from Wallace to his son William describing his Order of Merit medal, dated December 1908.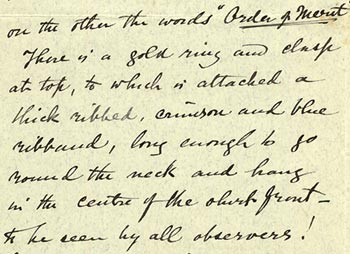 Image showing an extract from this item
In this letter Wallace tells William about being given an Order of Merit medal. This was for distinguished services to science and most notably, his contributions to the understanding of natural selection. Colonel Legge, one of the King's equerries (an officer who attends the royal family) went to Wallace's home at Broadstone in Dorset, to present it.
Wallace mixes pride with a little humour as he says the ribband (ribbon) is 'long enough to go round the neck and hang in the centre of the shirt front - to be seen by all observers!' He was not able to receive the medal in person from the King due to Wallace's old age and bad health. Perhaps this was an excuse, as Wallace made no secret of his dislike for public ceremony.
Search this collection
Toolbox
Wallace Letters Online
View high resolution scans and transcripts of Alfred Russel Wallace's correspondence, including all surviving letters between him and Charles Darwin.