You are here:
Science in 1907 manuscript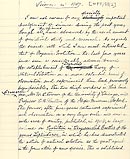 Catalogue number: WP7/99(2)
Manuscript by Wallace entitled Science in 1907, dated December 1907.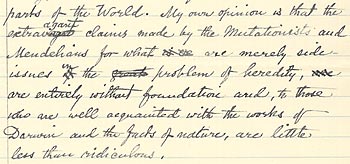 Image showing an extract from this item
Wallace wrote three pages of text on lined notepaper for the newspaper New York World. When asked to write a review of science in 1907, Wallace manages to seize the opportunity to write about evolution, unaware of any particularly important scientific developments that year. 'As regards the science with which I am most interested - that of organic Evolution - the last few years have seen a considerable advance towards the establishment of Darwin's theory of Natural Selection on a more extended basis of observation and experiment than had previously been possible.' He goes on to outline the work of Mr W.L. Tower and Professor E.B. Poulton.
Search this collection
Toolbox
Wallace Letters Online
View high resolution scans and transcripts of Alfred Russel Wallace's correspondence, including all surviving letters between him and Charles Darwin.