You are here:
Views on science in 1907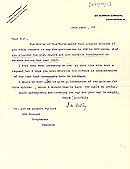 Catalogue number: WP7/99(1)
Letter from J.M. Tushy, editor of New York World, asking Wallace for his views on science in 1907, dated December 1907.
This is an extremely polite letter from the editor of the newspaper New York World asking Wallace to write a small article on 'what you consider the most important and valuable development in Science during the year 1907'. Wallace was to be paid: '...I shall be very glad to give an honorarium of ten guineas for this opinion...' informed Tushy. Wallace was very much respected as a great naturalist and scientist and his opinions were in demand.
Wallace agreed to Tushy's request. The result can be found in his manuscript and the printed article.
Search this collection
Toolbox
Wallace Letters Online
View high resolution scans and transcripts of Alfred Russel Wallace's correspondence, including all surviving letters between him and Charles Darwin.