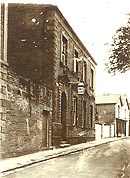 Catalogue number: WP6/8/13
Photographic print of Neath Free Library, undated, circa 1904.
This small sepia photographic print is of Neath Free Library. A lantern-shaped sign reading 'Free Library' is suspended over the arched entrance. The library in Neath (in Glamorgan, South Wales) was designed and built by Wallace and his brother John in 1847. The structure, which still stands today, is two storeys high and made of stone.
For many years before it became a library, the building was used as a Mechanics' Institute. This was a place where young working-class men could visit to improve their education. Evening lectures were held twice a week and Wallace often lectured on natural history in his spare time while surveying in the area.
Wallace had returned to Neath to take over the surveying business that had belonged to his elder brother William. William died in 1846, at the height of the railway boom, so there was a lot of work for professional surveyors like Wallace.
This photograph was originally kept with items that Wallace used for his autobiography, My Life (1905). An enlargement is reproduced facing page 246 in volume one of this book.