You are here:
List of Wallace's publications before 1862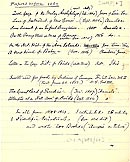 Catalogue number: WP6/8/2
Manuscript list of Wallace's publications before 1862, undated, circa 1904.
This list, hand-written by Wallace, is headed 'papers before 1862' and details the major papers he had published.
Wallace lists ten major articles, and notes 'in all from 1850 to 1861 - I contributed 26 articles... and wrote two books - ("Amazons" & Palms")'. The books he refers to are Palm Trees of the Amazon and Their Uses (October 1853) and A Narrative of Travels on the Amazon and Rio Negro (December 1853), both based on his first expedition to the Amazon region of South America.
It is possible that Wallace compiled this list while writing the chapter on his literary work for his two-volume autobiography, My Life (1905).
Search this collection
Toolbox
Wallace Letters Online
View high resolution scans and transcripts of Alfred Russel Wallace's correspondence, including all surviving letters between him and Charles Darwin.