Wallace builds a garden pond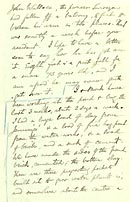 Catalogue number: WP1/1/158
Letter from Wallace to his son William describing work done on the garden pond and giving advice on the best drawing instruments to buy, dated November 1891.
Image showing an extract from this item
Wallace describes the construction of the new garden pond. 'We have made the sides for the pond brick, cemented: the bottom clay. There are three projecting pockets built out to grow water plants in...' It was this attention to detail that made Wallace such an excellent naturalist.
He was active in the world of natural and social science right up until the end of his long life. He especially loved to develop his garden. Many letters to his family describe the beautiful plants his the garden and special trips he made to Kew Gardens to get exotic specimens.
Search this collection
Toolbox
Wallace Letters Online
View high resolution scans and transcripts of Alfred Russel Wallace's correspondence, including all surviving letters between him and Charles Darwin.