Annotated proofs for Wallace's book Darwinism
Catalogue number: WP6/5/1
Wallace's proof copy of his book Darwinism with handwritten corrections, dated December 1888.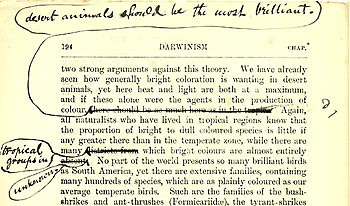 Image showing an extract from this item
Wallace's book Darwinism: An Exposition of the Theory of Natural Selection with Some of its Applications was published in 1889. Here you can see part of the original proofs, annotated by Wallace himself. The corrections, in black ink, range from deleting full paragraphs to solving punctuation errors.
There are many very slight alterations to the text, which indicates Wallace's minute attention to detail. He really was a perfectionist and went to great lengths to make his work of the highest possible standard.

Image showing an extract from this item
Wallace states in the preface to the first edition of Darwinism that the book 'treats the problem of the Origin of Species on the same general lines as were adopted by Darwin; but from the standpoint reached after nearly thirty years of discussion, with an abundance of new facts and the advocacy of many new or old theories'. Wallace was keen to develop and adjust ideas based on fresh evidence.
Search this collection
Toolbox
Wallace Letters Online
View high resolution scans and transcripts of Alfred Russel Wallace's correspondence, including all surviving letters between him and Charles Darwin.