Wallace on socialism at 90 years old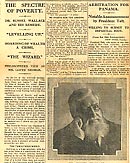 Catalogue number: WP2/2/5
Press cutting reporting Wallace's lifelong views on socialism, dated January 1913.
Image showing an extract from this item
This press cutting, from the Daily News and Leader, is entitled The Spectre of Poverty - Dr Russel Wallace and his Remedy. The correspondent interviews Wallace about his social views, on the eve of his ninetieth birthday. He begins by giving readers a picture of Wallace: '...that Grand Old Man of Science, Dr Alfred Russel Wallace, received me with a hearty handshake and a bright gleam of spiritual and intellectual youth flashing behind his blue spectacles...'
Wallace talks about socialism, 'of course I am a socialist out-and-out', and he laments the lack of progress over the last 100 years. 'I declare that from the top to the bottom our whole social environment is rotten, full of vice, and everything that is bad.' The final paragraph illustrates Wallace's amazing optimism. He is quoted as saying, with a deep chuckle, 'In spite of my tirade against everything I don't think we need to worry about the future. The outlook is hopeful...'
The article really conveys what a likable and charismatic man Wallace was.
Search this collection
Toolbox
Wallace Letters Online
View high resolution scans and transcripts of Alfred Russel Wallace's correspondence, including all surviving letters between him and Charles Darwin.