You are here:
Portrait of Wallace's wife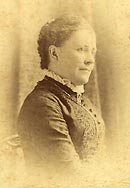 Catalogue number: WP2/1/8
Photograph of Wallace's wife Annie, undated, circa 1870.
This photograph shows Wallace's wife Annie. She was the daughter of Wallace's botanist friend William Mitten. Wallace met Annie in 1865. After a year of socialising with the Mitten family and enjoying long walks in the countryside together they were married. Wallace was 43 years old, Annie just 20.
Search this collection
Toolbox
Wallace Letters Online
View high resolution scans and transcripts of Alfred Russel Wallace's correspondence, including all surviving letters between him and Charles Darwin.