You are here:
Portrait of Wallace in old age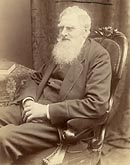 Catalogue number: WP2/1/7
Photograph of Wallace in his eighties, undated, after 1905.
This photograph shows Wallace at a desk, looking very distinguished with his long, white beard. Although undated, the photograph was probably taken when Wallace was in his eighties. He remained active as a naturalist, spiritualist and social commentator up to his death in 1913.
Search this collection
Toolbox
Wallace Letters Online
View high resolution scans and transcripts of Alfred Russel Wallace's correspondence, including all surviving letters between him and Charles Darwin.